No-Bake Peanut Butter Pretzel Cookies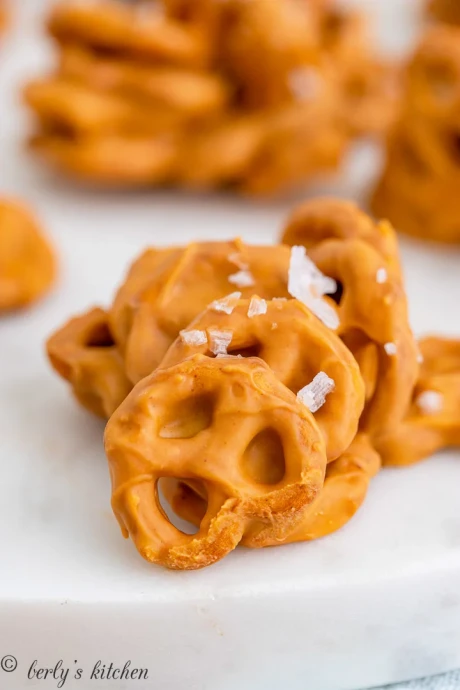 Peanut Butter Pretzel Cookies take no time at all to make, and they're the perfect snack when you're craving something crunchy, salty, and sweet. The flaked sea salt is just enough to cut through the butterscotch chips and peanut butter flavors without being too salty.
They're the perfect balance and remind me of our Salty Sweet Christmas Chex Mix. My absolute favorite part of this recipe is the cleanup is minimal, and it's kid-friendly so the entire family can get involved.
Peanut Butter Pretzel Cookies are sweet and salty no-bake cookies that are easy to make and will quickly become a family favorite.
Try swapping out the butterscotch chips for semi-sweet chocolate chips, milk chocolate chips, or dark chocolate chips.
If you'd prefer to use mini, regular, or large pretzels, break them into smaller pieces first. The cookies hold together much better when smaller pretzels or pretzel pieces are used.
The Maldon salt may be omitted if you're sodium sensitive or worried that the cookies will be too salty.
These cookies set up best in small portions, so try to keep them to 1 to 2 tablespoons each.
Ingredients:
1 (11 Ounce) Package Butterscotch Chips
1/2 Cup Creamy Peanut Butter
1/2 Teaspoon Vanilla Extract
5 Cups Itty Bitty Mini Pretzels
Maldon Sea Salt Flakes