Almond Joy Stuffed Dates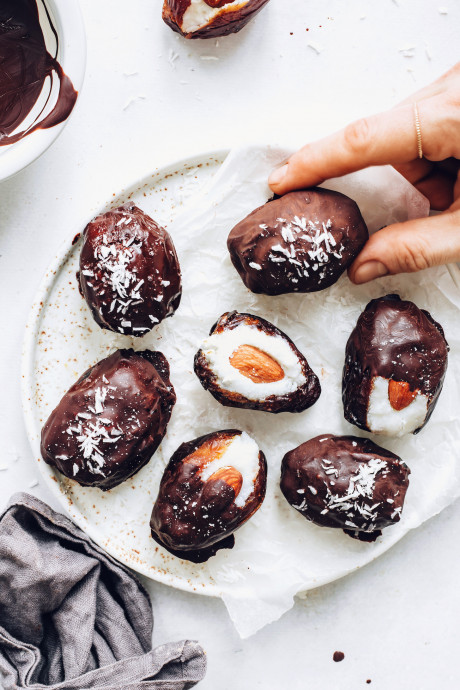 Incredible Almond Joy stuffed dates with just 6 ingredients required! All of the flavors of coconutty Almond Joys stuffed into a medjool date and dipped in dark chocolate. Naturally vegan and gluten-free and SO delicious.
I hope you LOVE these stuffed dates! They're: Chocolaty, Coconutty, Creamy, Crunchy. Perfectly balanced & Classic!
They're the perfect snack or treat any time you're craving something sweet yet wholesome. Each stuffed date has over 3 grams of fiber and 8% daily value of iron. They can be stored in the fridge for a couple weeks or in the freezer for longer!
Ingredients:
COCONUT DATES
20 medjool dates, pitted (as uniform in size as possible)
1/2 cup coconut butter (or we like the brand Ostara)
1/4 cup desiccated coconut
20 raw almonds (or sub pre-roasted, unsalted)
CHOCOLATE COATING
1 ¼ cup chopped vegan dark chocolate (60-70% cacao)
2 tsp coconut oil (if oil-free, omit)
TOPPING optional
Maldon sea salt
Toasted or raw desiccated coconut