Chicken Margherita Skillet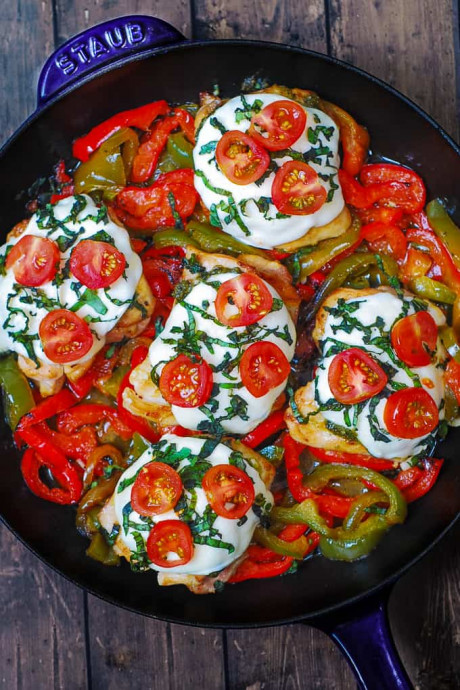 Looking for a well-balanced Mediterranean meal to make at home? Try this easy Chicken Margherita skillet that features cherry tomatoes, basil pesto, mozzarella, olive oil, and fresh basil!
Whether it's still Summer outside or the cold weather already starts to settle in, Chicken Margherita is a great recipe to have in your rotation! Why? This Italian-style dish is a perfect example of a healthy, well-balanced Mediterranean meal that's packed with veggies, fiber, healthy fats, as well as protein. If you are looking for a low-carb, high-protein, gluten-free, and keto-friendly recipe, this colorful Chicken Margherita will become one of your favorites! It's comfort food that's healthy!
Everything is cooked in one pan on the stovetop. There is no need to start your grill. The chicken is seared to perfection in a cast-iron skillet and topped with fresh basil pesto, gooey mozzarella cheese, garlic, and juicy cherry tomatoes!
Chicken Margherita is a complete meal on its own and can be served as is, especially if you want to keep this recipe low-carb, gluten-free, and keto-friendly. However, if you wish to add carbs, here are some delicious ideas: Sandwich. Place each chicken fillet (with all the toppings!) on top of the toasted slice of Italian bread to form an open-sided sandwich! Pasta. Serve Chicken Margherita over garlic butter spaghetti or angel hair pasta. Pizza. Slice the chicken, and add it (plus everything else from the skillet) on top of pizza crust to make Pizza Margherita!
Ingredients:
1 tablespoon olive oil
2 bell peppers (red and green), sliced
salt and pepper
2 tablespoons olive oil
5 chicken thighs (skinless, boneless)
4 cloves garlic (minced)
1/2 cup basil pesto
8 oz fresh Mozzarella cheese (sliced)
2 tablespoons fresh basil
5 oz cherry tomatoes each sliced in half