Loaded Veggie Nachos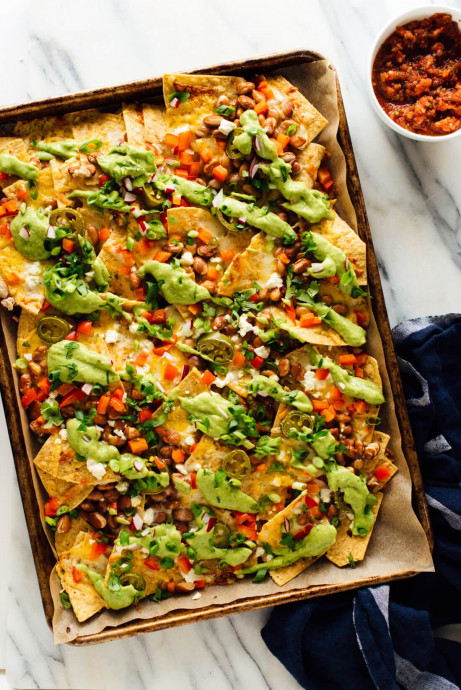 Are you enjoying these Mexican-ish recipes as much as I am? I could really eat fresh Mexican food all day, every day.
I'm sharing these fully loaded veggie nachos with you today, to serve at Cinco de Mayo or your next get-together, or to appease your weeknight nacho craving (been there, often).My ideal nachos are topped with golden, bubbling cheese, not drizzled with nacho cheese sauce that often goes cold in three minutes. I prefer a combination of two cheeses—cheddar, for maximum flavor and golden edges, and Monterey Jack, for its more melty and creamy texture.
I layer in beans for extra protein and fiber, and pinto beans are perfect for that. They're creamy and hefty enough not to dry out in the oven like black beans do, as long as you layer them underneath the cheese. You could spread refried beans on each chip instead, but I feel like making nachos should be more throw-together than tedious. Right?Then I top the nachos with red bell pepper and jalapeños, and bake until golden. They're in the oven for about 10 minutes, which is long enough to whip together this easy avocado sauce.
Finish with a sprinkle of green onion, cilantro and radishes, and serve with your favorite salsa. Nachos are ready.
Ingredients
8 ounces sturdy tortilla chips
1 can (15 ounces) pinto beans, rinsed and drained, or 1 ½ cups cooked pinto beans
1 packed cup (4 ounces) shredded cheddar cheese
1 packed cup (4 ounces) shredded Monterey Jack cheese, or additional cheddar
1 medium red bell pepper, finely chopped
⅓ cup crumbled feta cheese
Pickled jalapeños, to taste
Avocado dip, thinned with water until it reaches a drizzly consistency, or guacamole
⅓ cup chopped green onions
2 radishes, chopped
2 tablespoons chopped cilantro
Your favorite salsa (here's my red salsa and salsa verde)