Creamy Chocolate Hazelnut Milk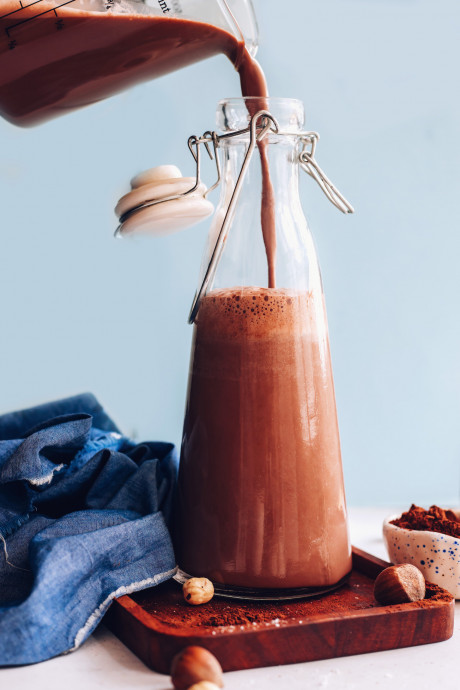 This creamy, DIY vegan chocolate milk is something special because it's like Nutella in a glass. We know! Exciting stuff. It's the real deal but without the dairy and refined sugar. Plus, it's a bit more sophisticated than your average chocolate milk thanks to the nutty complexity of hazelnuts. And it's super chocolaty thanks to cocoa or cacao powder.
Bonus perk? Just 5 ingredients required and it's naturally sweetened with dates and maple syrup for more wholesome indulgence. Let us show you how it's done!
It starts with soaking hazelnuts and medjool dates to soften them before blending. The hazelnuts provide a rich and creamy base while the dates add natural sweetness.Then it's added back to a rinsed blender along with sea salt for flavor, maple syrup for additional sweetness, and cocoa or cacao powder for a chocolaty element. A little vanilla extract is a delicious (but optional) addition.
Ingredients:
1 cup raw hazelnuts
3 large medjool dates, pitted
4 cups filtered water
1/4 tsp sea salt
1-2 Tbsp maple syrup
1 tsp vanilla extract (optional)
3 Tbsp unsweetened cocoa powder (or cacao powder)