Turmeric and Fennel Seed Crackers (Gluten-Free, Vegan)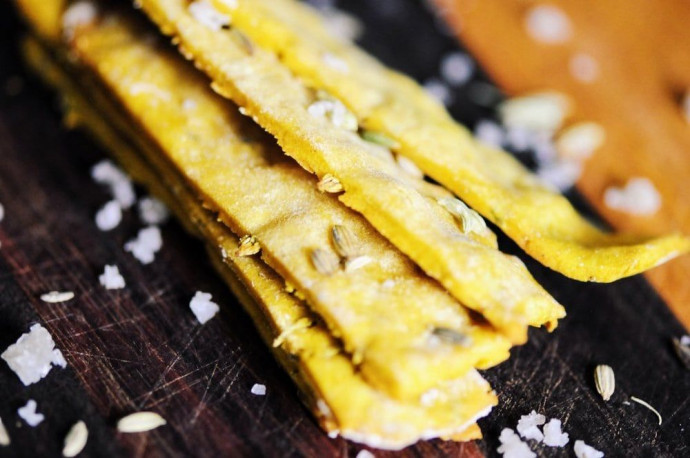 Beautifully crunchy and delicious gluten-free and vegan crackers with subtle hints of fennel seed and turmeric! These turmeric crackers are healthy and easy to make, too. These beautiful crackers have such an amazingly lovely flavor! The striking balance of fennel, sea salt, pepper and turmeric flavors really complement one another, and make for a wonderfully delightful snack.The perfect crisp crunchiness of these crackers also make them the perfect choice for dipping or holding a variety of toppings; and you would never know that they were gluten free! We personally love them as an accompaniment to our 'apples & cheese' night (Fridays!), as they really add a depth of boldness and flavor when served alongside other hors d'oeuvres.
And, did you know that both fennel seeds and turmeric have amazing medicinal properties?! You can read more about turmeric here in a previous recipe post of mine. I do love it when my food can be both incredibly tasty and healing -- don't you? Whether you are looking for a tasty chip alternative, an appetizer for your next party, or a healthy kid-friendly snack -- these delicious crackers will please you with their outstanding flavor, texture, and magical healing properties!
Ingredients:
1 1/4 cups all-purpose gluten-free flour with or without xanthan gum
4 tsp fennel seeds
2 tsp ground turmeric
2 tsp sea salt
1/2 tsp baking powder
1/4 tsp freshly ground black pepper
1/2 cup water
1/4 tsp apple cider vinegar
2 tbs olive oil + extra for brushing