Asparagus with Blue Cheese and Bacon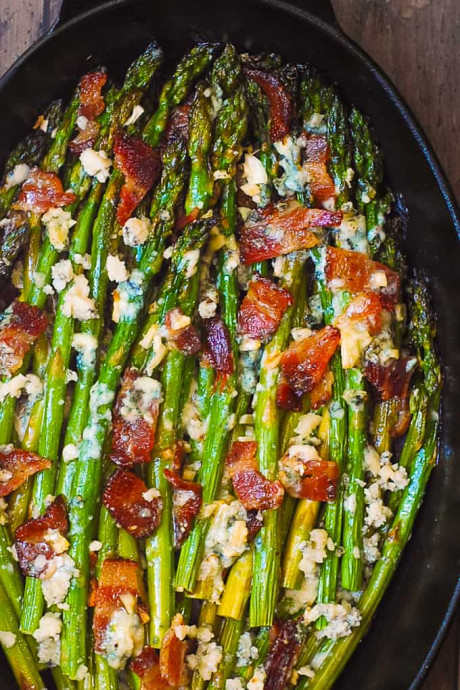 Asparagus with Blue Cheese and Bacon is a tasty side dish that will go well with any main course. This simple, oven-roasted veggie recipe is low-carb, gluten-free, and keto-friendly.
What I love about this recipe is that it's so simple. All you have to do to prep the asparagus is to drizzle it with olive oil, sprinkle it with freshly minced garlic, and season with salt and pepper. Roast it for 15 minutes in the oven. Then, top it with crumbled Blue cheese, chopped cooked bacon, and put it back in the oven for 5 more minutes to melt the cheese. That's it! The dish is ready, and it's bursting with flavor!
This is a low-carb and keto-friendly recipe. It will go beautifully with many types of grilled meats, such as steak, chicken, or lamb. It will also pair well with chicken bakes and other meats roasted in the oven. Try this asparagus with broccoli bacon cheddar chicken or smothered chicken with creamed spinach, bacon, mushrooms.
Ingredients:
1 lb asparagus
2 tablespoons olive oil
salt and pepper
4 cloves garlic (minced)
1 cup Blue cheese
5 slices bacon (cooked and chopped)