Grain-Free Savory Coffee Cake With Roasted Tomatoes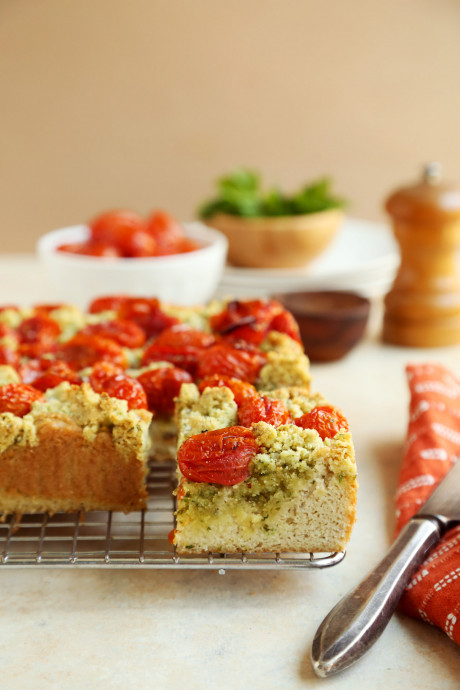 This recipe is grain AND diary free. If you're not dairy free I would definitely recommend adding grated Parmesan or crumbled feta to both the filling and the topping. You know, just a few good tablespoons in both the filling and topping. We'll call it breakfast cheese.
Here's what you'll need to make today's savory coffee cake: Cherry tomatoes and olive oil, par-roasted before they're baked again with the cake. You could also use coarsely chunked large tomatoes, the cake will just be a bit more wet. Parsley, garlic, lemon, and crushed red pepper flakes to create a savory streusel. Almond flour to give this cake a wholesome and tender crumb. Baking soda, baking powder and salt. Almond milk, eggs, and mayonnaise to moisten and bind the cake. I haven't tested this cake without the use of eggs though I suspect 2 flax eggs would work. I love a slice in the morning with a soft-boiled egg. This cake keeps well for a few days and heats up nicely with a jolt in the microwave.
Here's what we know for sure. Cake can be savory. Cake can most certainly be breakfast. Meetings are mostly cancelled.
Ingredients:
For the Roasted Tomatoes:
2 cups whole cherry tomatoes
2 tablespoons olive oil
For the Streusel:
1/2 bunch flat-leaf parsley
2 cloves garlic
Zest of 2 lemons
Pinch of red pepper flakes
1 cup almond flour
1/4 cup olive oil
1/2 teaspoon fine sea salt
For the Cake:
2 cups almond flour
1 teaspoon baking soda
1/2 teaspoon baking powder
1/2 teaspoon fine sea salt
1/2 cup almond milk (or any dairy free milk you prefer)
2 large eggs
1/2 cup mayonnaise
Coarse sea salt
Fresh cracked black pepper