Cucumber Smoothie with Pineapple and Banana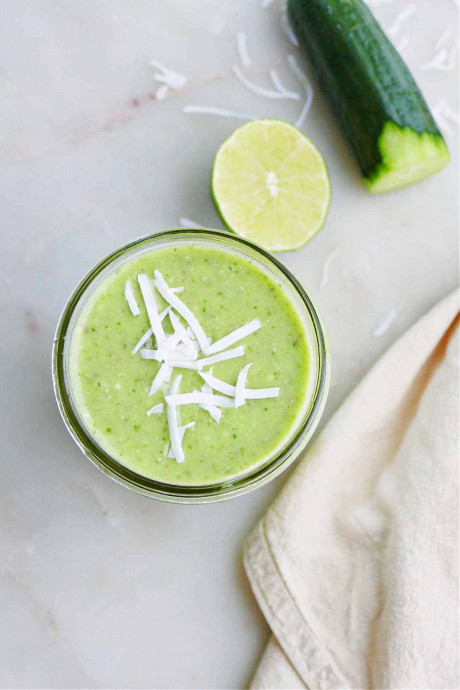 Drinking a cucumber smoothie is a great way to increase your vegetable and fruit intake. It's loaded with fiber, vitamins, and minerals and can be very hydrating, thanks to the high water content of cucumbers. The ingredients in this beverage also provide antioxidants, which can help fight cell damage that leads to aging and disease.
This cucumber smoothie recipe is made with pineapple, banana, and spinach for a pretty green color and refreshing taste. Lime juice, coconut flakes, chia seeds, Greek yogurt, and mint leaves add bursts of flavor and nutrition! This vegetarian cucumber smoothie happens to be the perfect thing to enjoy on a hot summer day! Some (hilarious people) might say it keeps me cool as a cucumber ;-). Not only can I whip it up without heating up my kitchen, but it's also full of hydrating and refreshing ingredients. I used crunchy cucumber as the base, sweetened it with banana and pineapple, and added some spinach for good measure. Plus, I threw in some chia seeds for protein and used mint, lime juice, and coconut for flavor. It's so yummy!
Ingredients:
1 cup peeled and chopped cucumber
1 cup frozen pineapple
1 banana - preferably frozen and separated into chunks
1 cup baby spinach
1/2 cup plain Greek yogurt - sub plant-based yogurt to make vegan
2 tbsp chia seeds
1 tbsp unsweetened shredded coconut
1 tbsp lime juice
5 mint leaves