Strawberry And Vanilla Bean Daisy Conchas (Mexican Sweet Breads)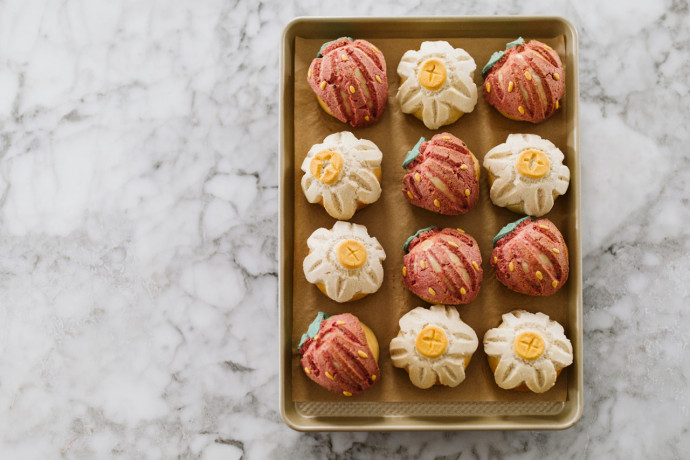 Your next spring baking project has arrived! We're making spring-themed conchas, also known as pan dulce, also known as Mexican sweet breads. Conchas translates from Spanish as seashells – usually appropriate because the sugar top traditionally resembles a seashell. This season we might want to call these conchas fresas (strawberries) or flores (flowers) because we're making fruit and flower shaped tops for our sweat breads! Each Mexican sweet bread is a tight-crumbed, lightly sweetened, butter roll topped with a sweet crust that expands in the oven as the bread breaks as creates cracks along the surface. It's my favorite thing to pick up at a panaderia save for every other baked good at a Mexican bakery. There is no wrong choice.
This is a perfect weekend baking project. The kind of recipe you spend a few hours in the kitchen about with enough rest time to keep the kitchen mostly clean, and make a few friend phone calls you've been meaning to catch up on. It's a sweet time with lightly sweet rewards and the perfect excuse for afternoon coffee and a treat.
Ingredients:
FOR THE PRE FERMENT
1/2 cup (123 gram) lukewarm water
heaping 1/2 teaspoon (3 grams) active dry yeast
1 1/3 cups (171 grams) bread flour
1 teaspoon kosher salt
FOR THE CHALLAH BREAD
2 1/2 cups (330 grams) bread flour, plus maybe a sprinkle more for shaping
3 tablespoons (42 grams) granulated sugar (add a tablespoon more if you'd like the rolls a bit sweeter)
2 1/4 teaspoon (15 grams) kosher salt
1 1/4 teaspoon (5 grams) active dry yeast
the risen and deflated pre ferment (about 290 grams), cut into walnut size pieces
3 large egg yolks, beaten
1/4 cup warm milk (about 62 grams), plus 2 more tablespoons if needed
3 tablespoons (42 grams) unsalted butter, softened, plus more for coating the bowl
FOR THE TOPPING
3 cups (381 grams) bread flour
1/2 teaspoon baking powder
1/2 teaspoon kosher salt
1 cup plus 5 tablespoons (296 grams) unsalted butter, at room temperature
2 1/2 cups (252 grams) powdered sugar
2 teaspoons pure vanilla extract
1 vanilla bean pod, seeds scrapped
2 – 3 tablespoons whole milk
1/4 cup dehydrated strawberry powder
red, yellow, and green food coloring