Geode Cake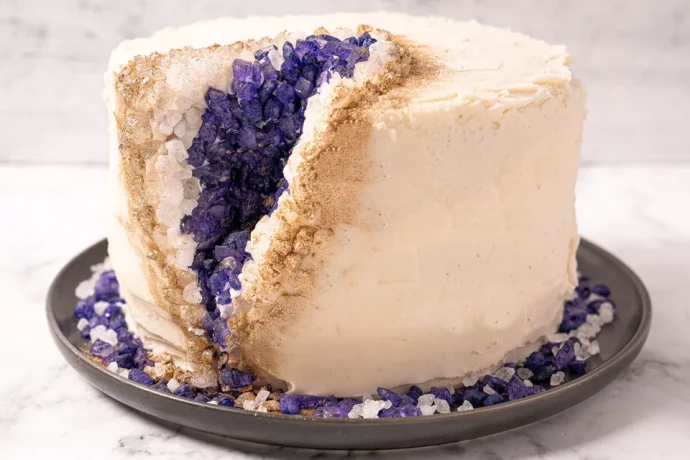 Geode cakes are stunningly decorated layer cakes meant to mimic the famous natural formation of rock and precious and semiprecious stones. Pieces of the finished and frosted cake are cut out, and then the cavity is filled with edible crystals made out of rock candy. Although it might seem like a lot of work, it actually isn't much more than making a layered and frosted cake, especially if you're buying the rock candy and not making it (you could, using isomalt). Use loose rock candy or the classic rock candy on a stick—just remove it from the stick before arranging it on the cake.
To make a realistic geode cake, decide on your favorite color palette for the geode. Start by selecting the main color of the stones—any hue will be beautiful. Purchase either a lighter shade of that same color or white rock candy to help create the ombré effect similar to that of real rock formations. Finally, purchase edible gold dust, gold shimmer sprinkles, or flakes to paint around the edges of the geode formation.
The amount of candy needed depends on how much you'd like to use on the cake and on how many cutouts you want it to have. The best course of action is to place enough candy to cover all the surfaces without crowding them. Rock candy crystals come in bags of one pound or more, so you'll get enough for this three-layer cake when you buy a one-pound bag each of colored and white candy. For easy decoration, we suggest you have at hand an offset spatula and food tweezers to easily frost the cake and place the rock candy in its place.
Ingredients:
For the Cake:
1 cup unsalted butter, softened
2 cups sugar
4 large eggs
3 cups cake flour, sifted
1 tablespoon baking powder
1/2 teaspoon salt
1 cup milk
1 1/2 teaspoons vanilla extract
For the Buttercream Frosting:
2 (1-pound) boxes powdered sugar
1 cup unsalted butter, softened
6 to 8 tablespoons milk, divided
2 teaspoons vanilla extract
For the Decoration:
Colored rock candy
White rock candy
Edible gold dust