Easy Chilaquiles Recipe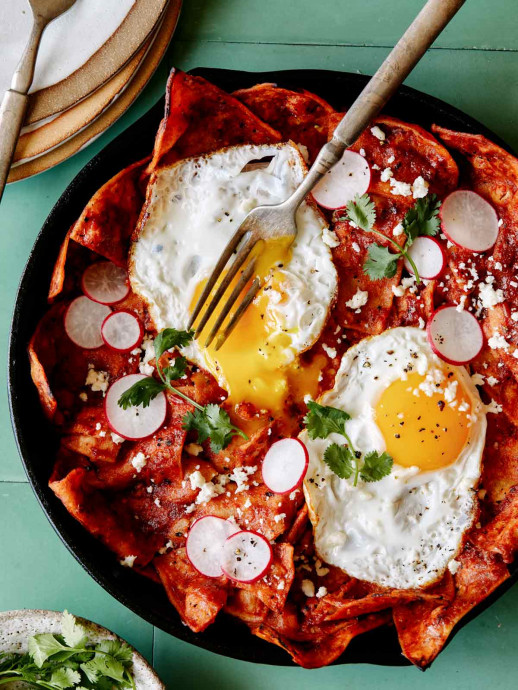 Chilaquiles is a traditional Mexican breakfast. This recipe is simple, delicious and takes just 30 minutes to make! Crispy fried tortilla chips are tossed and simmered with our smoky red sauce and topped with a fried egg! Today we are sharing with you one of my favorite recipes ever, Easy Chilaquiles. The first time I tried it was in Mexico years ago. I remember sitting at breakfast with my family and seeing a server walk past me with a big plate of saucy tortilla chips with a fried egg on top.
I thought chips for breakfast was pretty incredible, so I ordered it and whoa! The freshly fried chips were slathered in a smoky red sauce, topped with salty queso fresco and finished with a perfectly fried egg. It was so simple, but unforgettable. This recipe is very similar to that first experience, with a very flavorful, smooth and smoky red sauce. The sauce simmered chips are soft, but with a pleasantly crisp edge. The runny yolk and crumbled queso fresco add a creamy and salty bite to the chips, while the radishes and cilantro provide a much needed pop of freshness that. balances the dish out.
Ingredients:
3 tablespoons neutral oil
½ sweet onion, diced
2 garlic cloves, minced
2 ½ cups crushed tomatoes
4 chipotles in adobo sauce
1 cup low sodium chicken stock
tortilla chips
2 tbsp extra virgin olive oil
4 eggs
salt and pepper to taste
½ cup queso fresco, crumbled
2 radishes, thinly sliced
½ bunch cilantro leaves, roughly chopped
hot sauce optional