Easy Vegan Sausage Links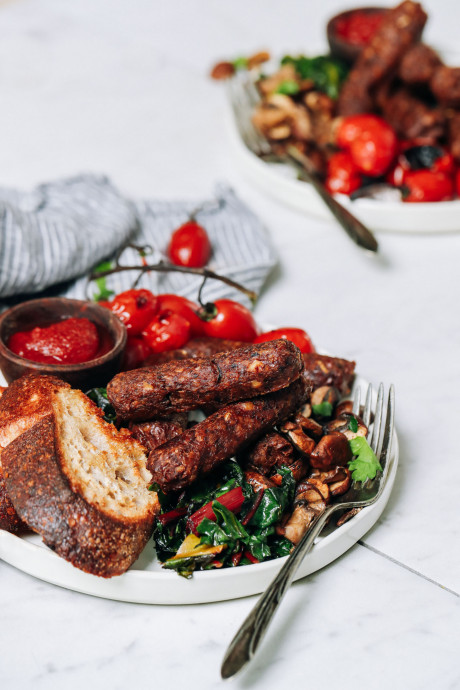 Friends, these vegan sausages are little miracles. Not a crumble in sight! These bean, oat, and nut-based sausages are packed with flavor thanks to spices like fennel and smoked paprika, have the texture of REAL sausage, and are incredibly versatile!
They can be made into large sausages for grilling (Hello, vegan sausage in a bun with mustard and sauerkraut), or made into small breakfast sausages perfect for brunch, scrambles, hashes, and more! The possibilities are endless.
The best part? Just 10 ingredients required and perfect for preparing ahead of time and pulling out of the refrigerator or freezer as needed! Let us show you how it's done.
Ingredients:
FLAX EGGS
3 Tbsp flaxseed meal
1/2 cup water
SAUSAGES
1 (14-ounce) can pinto beans
1 ½ cups rolled oats (gluten-free as needed)
1 cup sliced cremini mushrooms
4 cloves garlic, minced
3 ½ Tbsp coconut aminos
1 tsp dried fennel seeds
2 tsp smoked paprika
1/4 tsp cayenne pepper (optional)
1/2 tsp each sea salt and black pepper (optional)
1/2 cup walnuts, finely chopped
2 Tbsp avocado oil (for cooking)