Balsamic Caramelized Shallot Pasta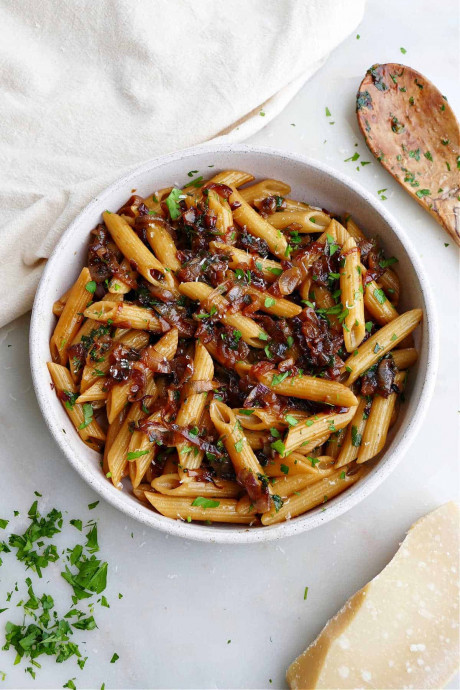 Sliced shallots coated in balsamic vinegar give this caramelized shallot pasta delicious flavor! This easy vegetarian recipe comes together in 30 minutes and makes a great dinner. (PS – this does not contain anchovies like the internet-famous shallot pasta.) If you're not eating caramelized shallots, you're missing out!! Especially these caramelized shallots. Though they be but little, they are fierce-ly loaded with flavor. (See what I did there?)
Shallots taste similar to sweet onions, and caramelizing them makes them even sweeter and more concentrated with flavor. Before tossing them with freshly cooked penne and parmesan cheese, I cooked the shallots down in balsamic vinegar and brown sugar. Yeah. It's as delicious as it sounds. Trust me.
One of the best things about this balsamic caramelized shallot pasta is that it's a fancy dish that comes together quickly. You don't need nearly as much time to caramelize shallots as you do onions. Serve this recipe for a quick weeknight meal, and sub in chickpea or lentil pasta for a little more protein. Or enjoy it as a side dish. Whatever you do, you can't go wrong!
This recipe is best served right away, but it keeps very well in the fridge for a couple of days. Reheat in the microwave for about a minute.
Ingredients:
8 ounces penne pasta - about 2 cups dry
2 tbsp olive oil - can sub butter
1 pound shallots - about 9 to 10 shallots; peeled and sliced into rings
Salt - to taste
Freshly ground black pepper - to taste
3 tbsp balsamic vinegar
2 tbsp packed brown sugar
1/3 cup chopped fresh parsley
1/2 cup freshly grated parmesan cheese - more to taste
Balsamic reduction - for serving, optional