Balsamic Portobello Burgers with Caramelized Onions & Garlic Aioli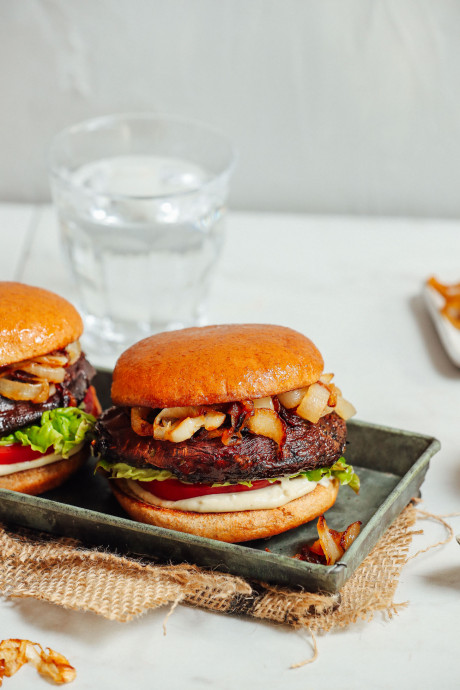 Friends, behold one of the tastiest veggie burgers we've ever had.
If you've never tried a balsamic-marinated portobello mushroom, you probably haven't lived. Not only are these veggie burgers delicious, they're also relatively easy to make and require just 10 ingredients! Let's do this! These burgers get their flavor from fresh garlic, sea salt and black pepper, olive oil, balsamic vinegar, and Italian herbs like oregano and basil.
While they marinate you'll make a simple garlic aioli with roasted garlic for a more subdued, sweet garlic flavor, which complements the burgers perfectly.You can either grill your mushrooms or cook them on the stovetop — either way, they're absolutely delicious.
And while that's happening, you can sauté some onions until caramelized. These will be the perfect topper for the burgers. These 10-ingredient portobello burgers are the best mushroom burgers we've ever had! It's the balsamic-herb marinade and homemade garlic aioli that sets them apart. Sure to please plant-based and meat eaters alike!
Ingredients:
GARLIC AIOLI
1 head garlic (to roast)
3/4 cup raw cashews
2 cloves garlic, minced (omit for less intense garlic flavor)
1 Tbsp avocado or olive oil
1/3 cup water (or sub unsweetened almond milk for creamier consistency)
Salt + pepper (to taste)
BURGERS
4 medium-large portobello mushrooms (organic when possible)
3 Tbsp avocado or olive oil
1/4 cup balsamic vinegar
1 Tbsp Italian seasoning (dried basil + oregano)
2 cloves garlic, minced (2 cloves yield ~1 Tbsp or 6 g)
1 healthy pinch each salt and black pepper
CARAMELIZED ONIONS
1 Tbsp avocado or olive oil
1 medium white or yellow onion, peeled + sliced into 1/4-inch rings
FOR SERVING
4 whole wheat hamburger buns (ensure vegan-friendly as needed // sub lettuce wraps or GF buns for gluten-free)
2 ripe tomatoes, sliced (optional // organic when possible)
Lettuce or greens of choice (optional)