Creepy Witch Finger Cookies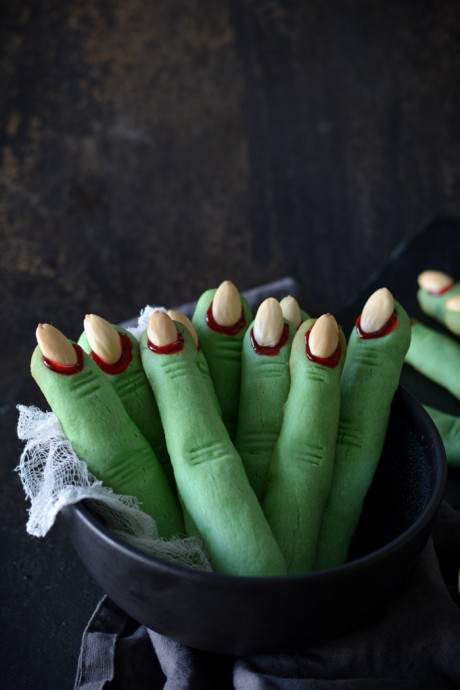 Halloween always brings out lots of different recipes for the always-popular witches' fingers cookies. Sometimes they're called severed finger cookies or ladies' fingers cookies. Whatever you call them, this version is definitely the most delightfully gruesome I've seen!
Creepy Witch finger cookies are a perfect Halloween treat. Because creepy is in on Halloween. How can something that tastes this good look so bad? It's because the cookie is buttery shortbread. Butter has a lower than body melting temperature, therefore it melts in your mouth. This is an extremely easy recipe. Not much to it at all. Gather and measure all the ingredients.
Ingredients: 1 cup unsalted butter softened, 1 cup powdered sugar confectionery, 1 egg, 1 teaspoon Almond extract, 1 teaspoon Vanilla extract, 2 3/4 cups all-purpose flour, 1 teaspoon baking powder, 1 teaspoon salt 1/2 teaspoon salt, if using salted butter, 3/4 cup whole blanched almonds, green food coloring few drops, 1 tube red decorator gel
Course: Dessert
Prep Time: 20 minutes
Cook Time: 20 minutes
Total Time: 40 minutes