Smoky Beans & Greens Tacos with Aji Verde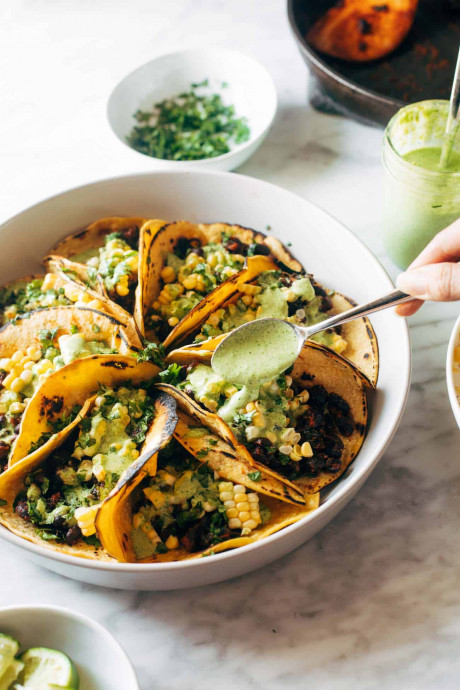 These tacos are just one long love letter to flavor.
Smoky chipotle black beans, sautéed with kale and garlic and spices, tucked into charred corn tortillas, topped with fresh, crisp sweet corn cut right off the cob, and smothered with too much (and yet never enough) aji verde.
As of lately I have been affectionately calling these guys "beans and greens tacos", and oh my goodness, they are just so delightful. They appear humble with the black bean / kale vibes and a cutesy little name, but seriously, don't sleep on these. They are a top summer recipe for me this year.
Aji verde is a spicy Peruvian green sauce, and it came into my life last year when I made it as a little drizzley drizzle for this plantain stew (um, incredible). Now here we are in the summer, when stew is out and tacos are in, so I'm revisiting the beloved aji verde for these beans and greens tacos. Because what's a taco without a good sauce? Sad. That's what it is. And we don't do sad tacos. Enter: more aji verde.
As with all tacos, please, by all means, go big with your toppings. You know I will approve of the more-is-more mentality here. For one, I can confirm that avocado is killer. Slaw or some kind of pico would be excellent. Pickled red onions would truly make the angels sing. And the sweet corn that I generously scooped all over my tacos was a peppy nod to summer and all things sweet, fresh, and a little bit crunchy.
Ingredients:
Smoky Beans and Greens
1 tablespoon olive oil
2–3 cups shredded kale (no stems, please)
one 14-ounce can black beans
1 cup enchilada sauce (I like this one)
1 chipotle pepper, minced (or a sprinkle of ground dried chipotle spice)
salt to taste
Aji Verde
2 tablespoons olive oil
1/2 cup mayonnaise
3 ounces of queso fresco (optional)
1 jalapeno pepper, with seeds and ribs to keep it spicy (remove for a mild version)
1 bunch cilantro
2 cloves garlic
juice of 1 lime
pinch of salt (to taste)
Taco Extras
tortillas
fresh sweet corn, cut off the cob
anything else you like on your tacos