Fresh Melon and Sugar Snap Pea Salad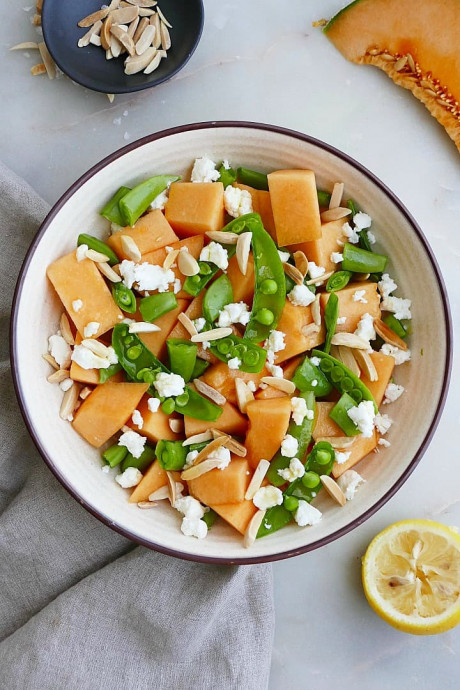 This incredibly delicious sugar snap pea salad features cantaloupe, goat cheese, slivered almonds, and a simple honey lemon dressing. It's a refreshing, no cook recipe for any summer evening. I'm having so much fun with my vegetable garden this year! In the past few years, we spent a lot of time traveling in the summer, so being able to stay home and focus on my veggies this year has been a silver lining.
My most successful veggies thus far are my sugar snap peas! I heard they were easy to grow, and I'm so glad that was true for me too. We picked our first batch last week and have plenty more that will be ready before the weekend. In addition to the cantaloupe and peas, I added slivered almonds, goat cheese, and a lemon-based dressing. Little did I know how well lemon goes with melon! The lemon juice really brings out the sweetness of the cantaloupe juices, especially if you let the finished dish sit for an hour or so in the fridge.
Besides having an amazing flavor, this sugar snap pea salad is such an easy dish. It takes about 15 minutes to whip up, and it's a great option for those hot summer nights when you really don't want to turn on your oven. I'll definitely be making it on repeat this year.
Ingredients:
4 cups diced cantaloupe - from ~1/2 large melon
2 cups sugar snap peas - kept whole or sliced in half lengthwise
3 ounces goat cheese - crumbled
3 tbsp slivered almonds
Flaky sea salt - for serving
3 tbsp olive oil
2 tbsp lemon juice
1 tbsp honey