Smoked Sausage and Rice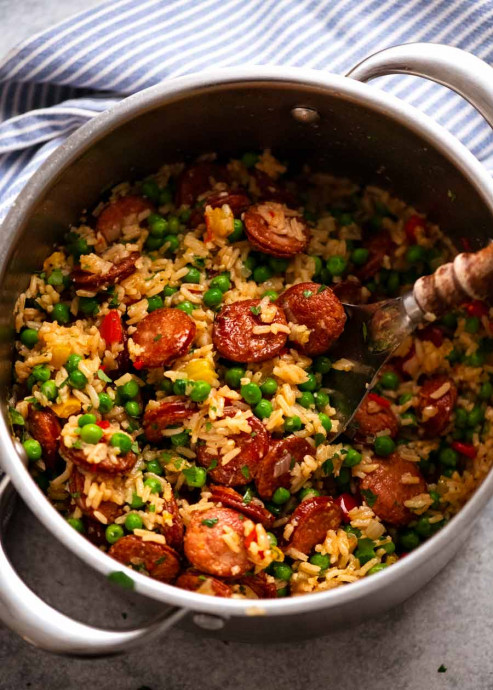 This Sausage and Rice Casserole is a quick one pot dinner recipe that punches way above its weight in terms of effort vs results. Smoked sausage is the trick! It adds a ton of flavor that's absorbed by the rice. I've used kransky, but any type will do – kielbasa, chorizo, etc.
They pan fry to a beautiful golden color, leaving behind a stack of tastebud-tickling good stuff in the oil which then forms the primary flavoring for this rice meal. And therein lines the beauty of this recipe: the exact flavor you end up with in the rice depends on the sausages you use. All are slightly different, some smokier than others, with slightly different seasonings. One dish, different tastes!
This recipe serves 4 to 5, and contains 2 onions, 2 capsicums, and 2 cups of peas which I think is just enough vegetables per serving to make this qualify as a complete meal. For a quick way to up the veg quota in this, stir through a few handfuls of baby spinach when fluffing the rice. The steamy heat will wilt the spinach in seconds!
Ingredients:
3 tbsp extra virgin olive oil
5 garlic cloves , finely minced
2 onions (medium), chopped (or 1 large)
1 yellow capsicum , cut into 1.5cm / 1″ squares
1 red capsicum , cut into 1.5cm / 1″ squares
400 g/ 14oz (~3) kransky or other smoked sausages , sliced 0.5cm thick / 1/4" thick
3/4 tsp salt
1/2 tsp pepper
3/4 tsp smoked paprika (sub normal paprika)
1 1/2 cup long grain white rice , uncooked (Note 2 other rices)
2 1/2 cups chicken stock/broth , low sodium (or veg stock)
2 cups frozen peas , thawed
2 tbsp parsley , chopped (optional)