Chicken Biscuit Bake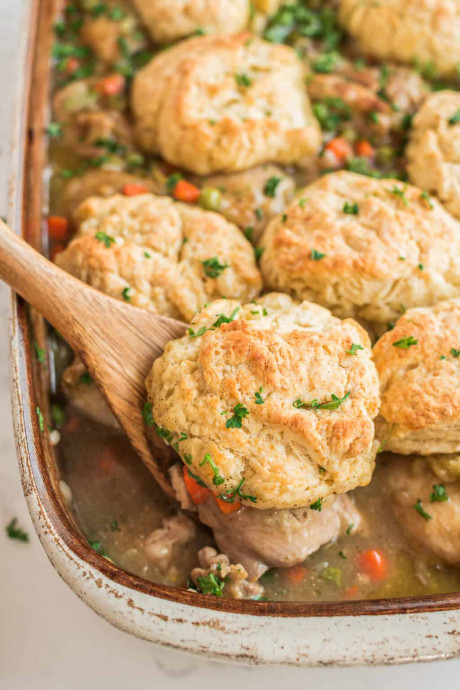 Hearty, filling and so comforting, this chicken biscuit bake is a true family favorite. Simple to make and so delicious to eat!
If you are looking for a big bite of delicious, I've got you covered with this chicken biscuit bake.
A rich chicken stew is topped with homemade biscuits for a super comforting family meal that everyone will love.
Why You'll Love this Chicken Biscuit Bake Recipe: Easy: Because this casserole is oven baked, the hands on cooking time in minimal. Kid friendly: If you have picky eaters in your house, this chicken biscuit bake is a great option! Make ahead: These chicken and biscuits are a great meal that you can make ahead of time and enjoy a couple of times throughout the week.
This chicken biscuit bake will keep well covered in the fridge for up to 4 days. Reheat it at 350F for around 20 minutes to warm it through to serve. This is a great recipe to serve one night and enjoy a few days later for a super simple dinner.
Ingredients:
3 lbs. boneless skinless, chicken breasts
1 tablespoon oil
2 ½ cups chicken broth
⅓ cup cooking sherry
1 ½ teaspoon poultry seasoning
1 teaspoon salt
¼ teaspoon pepper
1 ½ tablespoons cornstarch
2 tablespoons water
1 medium onion finely chopped
2 carrots finely chopped
2 celery ribs finely chopped
chopped parsley for garnish
FOR THE BISCUITS
2 cups flour
1 tablespoon baking powder
½ teaspoon salt
¼ cup cold butter cut in small pieces
¾ cup half and half cream or milk