Easy Cheesy Garlic Bread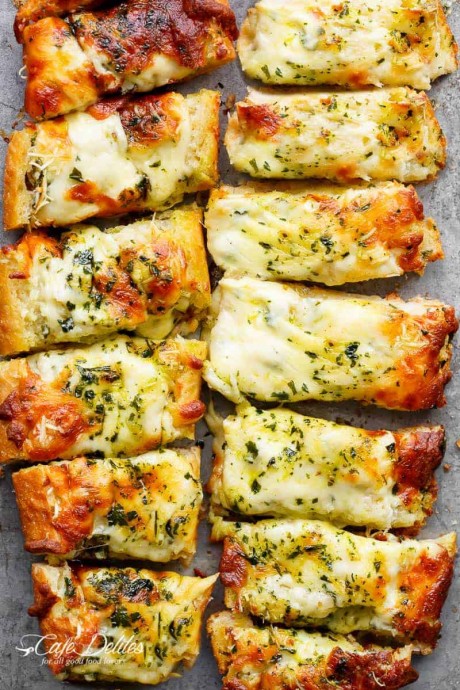 Easy and super cheesy garlic bread can be served as an accompaniment or as a dish all on its own! Here we have the best cheesy garlic bread you will try in this lifetime. The perfect amount of garlic and butter together gets smeared all over your bread before anything else hits it.
Then, a faultless blend of two cheese: mozzarella and parmesan, is sprinkled all over the top. So easy and super quick to throw together.
Is there any wrong way to serve bread? I think not. It goes well alongside Italian favorites such as baked spaghetti and lasagna plus soups and dinner salads like my chicken bacon ranch layer salad.
Ingredients: 14 ounces (400 grams) loaf French bread, (or Italian), sliced in half horizontally (lengthwise), 1/2 cup unsalted butter, softened, 6 cloves garlic, finely chopped (or 1 1/2 tablespoons minced garlic), 2 tablespoons fresh parsley, finely chopped, 1/4 teaspoon salt, (or to taste), 1 1/2 cups shredded mozzarella cheese, 1/2 cup finely shredded parmesan cheese, 1/2 teaspoon dried parsley.
Prep Time: 5 minutes
Cook Time: 22 minutes
Total Time: 27 minutes