Peanut Butter Smoothie Bowl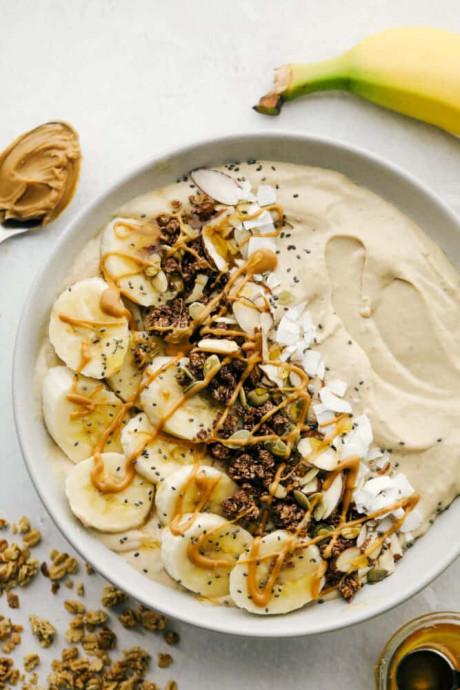 Peanut Butter Smoothie Bowl is one of the best ways to get your protein in for the day! It tastes like you are eating luscious ice cream, only it's so much better for you! Smoothie bowls are an incredible way to eat a smoothie. It makes it feel like a bowl of ice cream, except it's not! It's so much better. Full of healthy ingredients it is more of a meal than a snack. Smoothie bowls are customizable and insanely delicious! Topped with your favorite toppings and blended with your choice of add-ins, this peanut butter smoothie bowl is going to become a fast favorite in your house.
This peanut butter smoothie bowl are great for a quick breakfast, a mid-day snack, or even an after-workout meal. With summer coming this makes is a great way to keep your health goals but have a cold bowl of deliciousness. When I get an ice cream craving or when my kids want something sweet and cold, I whip up one of these special smoothie bowls and all are satisfied. If you have not tried one yet, the time is now!
Ingredients:
3 cups frozen bananas
1/3 cup peanut butter
1 Tablespoon Honey
1/4 cup greek yogurt
1/2-1 cup milk
Chocolate Granola
Chia Seeds
Peanut Butter
Honey
Sliced Almonds
Coconut Flakes