Savory Southern-Style Cheeseburger Pie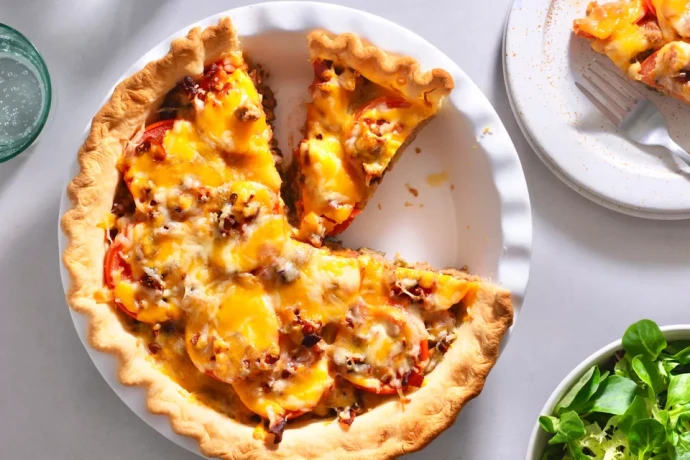 If you're looking for a meal idea for a particularly busy day, look no further. This cheeseburger pie is a family-tested and approved one-dish meal that is sure to please even the pickiest family.
A frozen pie crust or a refrigerated pastry sheet makes this pie super quick and easy. Or make a homemade crust if you have the time. This food processor pastry takes no more than about 5 to 10 minutes to fix. The ground beef and several typical cheeseburger toppings make it taste like a cheeseburger. The ground beef filling includes dill pickle slices, ketchup, and mustard. Shredded cheddar or cheddar jack cheese is the topping for this savory pie.
Serve cheeseburger pie with French fries or roasted potatoes, corn, and a tossed salad or coleslaw for an enjoyable family lunch or dinner.
Ingredients:
1 tablespoon vegetable oil
1 pound ground beef
1/2 cup onion (chopped)
2 cloves garlic (minced)
1 teaspoon burger seasoning (or a steak seasoning blend)
3/4 teaspoon salt
1/4 teaspoon ground black pepper
1/4 cup plain fine breadcrumbs
2 large eggs
2 tablespoons Dijon mustard (or a favorite gourmet mustard)
2 tablespoons ketchup
3 tablespoons Worcestershire sauce
6 dill pickles slices (chopped)
1 1/2 cups shredded cheddar jack cheese (divided)
1 (9-inch) pie shell (frozen and thawed or homemade, unbaked)
Optional: fresh tomatoes (sliced)
Optional: 6 to 8 pieces of bacon (cooked)