Peppermint Sugar Cookie Cake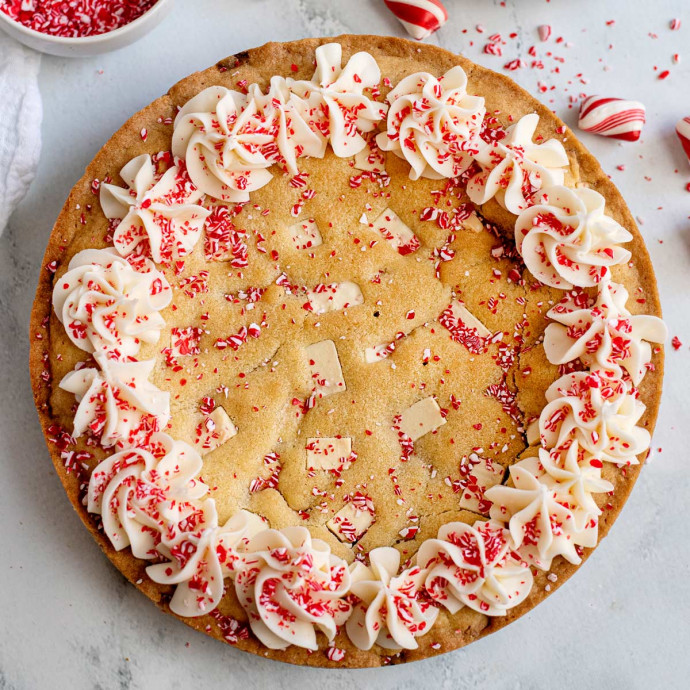 This Peppermint Sugar Cookie Cake is soft and chewy in the center, crunchy around the edges, and filled with plenty of white chocolate/peppermint chunks. The silky peppermint vanilla buttercream makes this a perfect holiday dessert! Perfect for any holiday cookie tray, and so easy to make! We love simple holiday sweets like my Crockpot Candy and Christmas 7 Layer Bars, and this is one of my Desserts you'll definitely want in your holiday baking rotation!
And that's exactly what this recipe is… ridiculously delicious! A thick, chewy cookie that's 9 inches in diameter. Soft and tender in the middle and a little crisp at the edges, and loaded with little pockets of pepperminty white chocolatey flavor.
Plus, how can we forget the delicate swirls of peppermint vanilla buttercream all around the edge? I mean, I'm getting super hungry just writing about it!
The great thing about this recipe is that even though it's a cookie, there's no chilling the dough! When making traditional cookies, the dough usually needs to be chilled so the cookies will hold their shape and not spread too much on the baking sheet.
Ingredients:
1 cup unsalted butter softened
1 cup granulated sugar
2 large eggs room temperature is best
2 tsp vanilla extract
2 1/2 cups all purpose flour
1 tsp baking soda
1-2 tsp cornstarch
1/2 tsp kosher salt
2/3 cup Ghirardelli peppermint chunks baking chips plus a few extra to press into the top of the cake (optional)
1/3 cup white chocolate bar coarsely chopped
PEPPERMINT VANILLA FROSTING
1/4 cup unsalted butter softened
1 1/2 cups powdered sugar whisked to remove any lumps
1 tsp vanilla extract
1/4 tsp kosher salt
1/8 tsp peppermint extract
1 - 3 Tbsp heavy whipping cream
1/2 cup Wilton peppermint crunch sprinkles (optional)