Easy breakfast: Eggs in Purgatory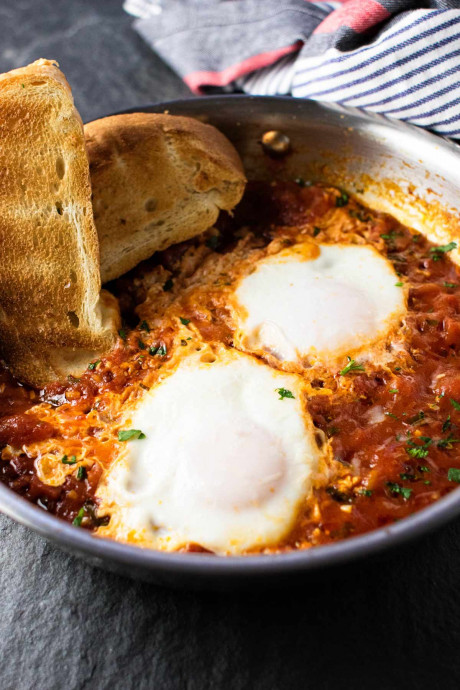 Eggs in purgatory is a fast and warming comfort food. Eggs are poached in a spicy tomato sauce and served with bread on the side. It's an easy 15-minute meal that you can have for breakfast, brunch, lunch, or dinner. A fiery marinara sauce, poached eggs with velvety liquid yolks, and toasted bread. This, my friends, is eggs in purgatory, otherwise known as one of my all-time favorite easy recipes. I make it for breakfast, lunch, and dinner. It knows no mealtime boundaries.
This simple dish originated in Naples, Italy, and is thought to be named for the Catholic idea of purgatory. In this case, the eggs are the souls trapped in a bubbling spicy tomato sauce otherwise known as purgatory. It's all very dramatic. And, like most Italian dishes, it's incredibly simple and delicious.
What I love about this eggs in purgatory recipe is that it's super savory, comforting, and so easy to make. Instead of making the sauce, feel free to use your favorite jarred marinara. I do it all the time and it makes things even faster. I still add the fresh herbs for a pop of freshness.
Speaking of herbs, you can use fresh basil or try fresh parsley, thyme, or even chopped rosemary.
Ingredients:
1 tablespoon olive oil
¼ teaspoon red pepper flakes (see note)
2 cloves minced garlic
1 cup canned chopped tomatoes
1 teaspoon kosher salt
1 teaspoon basil (see note)
2 eggs
Grated Parmesan cheese
Toasted bread, for serving