Baked Rigatoni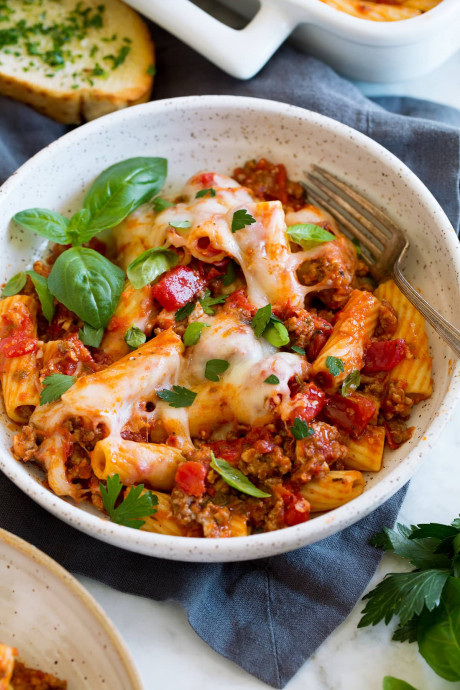 Easiest Baked Rigatoni! Al dente rigatoni pasta is tossed with a beefy pasta sauce, blanketed atop with plenty of rich cheese then it's baked until melty and delicious!
A quick dinner perfect for busy days! This Italian inspired baked rigatoni is the ultimate comfort food after a long day.
It's cheesy, beefy, generously coated in a vibrant tomato-y sauce, and full of tempting pasta carb-y goodness. Checks all the boxes for a simple yet incredibly tasty dinner.
Serve up a mostly homemade dish (we cheat with a jar of pasta sauce) that everyone can agree on. And honestly it's so easy that it's almost more of a guide than a recipe.
You'll love that you get most of those crave-able lasagna flavors here without near the the amount hassle.
Serve it with a side salad or some steamed veggies to complete the simple dinner, and maybe garlic bread if you are in an extra comfort food mood.
Ingredients:
10 oz. dry rigatoni pasta
1 Tbsp olive oil
1 lb. lean ground beef
2 tsp minced garlic
1 (24 oz) jar tomato basil pasta sauce
1 (14.5 oz) can petite diced tomatoes
1 1/2 tsp Italian seasoning
2 cups shredded mozzarella cheese, divided
1/2 cup parmesan cheese, divided
Salt and freshly ground black pepper, to taste
Fresh basil leaves or fresh parsley leaves, for garnish (optional)