Cinnamon Roll Pancakes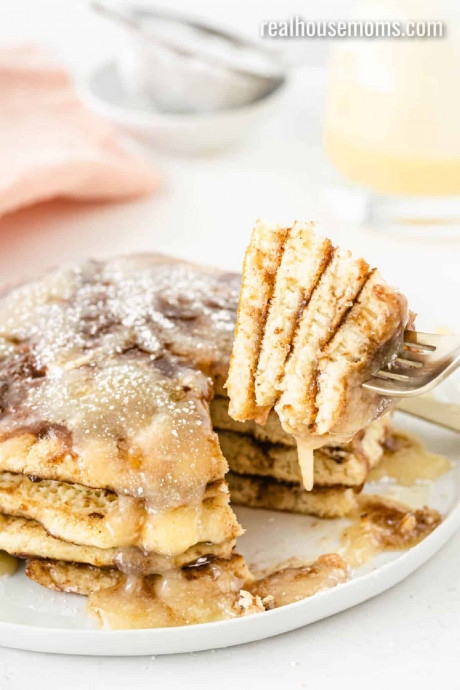 Cinnamon Roll Pancakes with a sweet cinnamon swirl and decadent cream cheese glaze are what breakfast dreams are made of! Fluffy pancakes with a beautiful cinnamon sugar swirl and a cream cheese glaze… absolutely drool-worthy. Whip up a batch of cinnamon roll pancakes for the next special breakfast you have planned and make sure you pair your pancakes with some bacon in the oven! You'll be licking your plates clean.
Homemade cinnamon rolls, the tasty ones you pop from a cardboard can, the ones you smell throughout your entire walk at the mall… I love them all.
While pancakes are super simple when it comes to the ingredients, there are definitely tips and tricks that help to make the ultimate pancake. You know… fluffy, tender, with a slightly crisp crust on the outside? You can't beat a well-cooked pancake! It's not hard to do.
Ingredients:
Pancakes
1 cup all-purpose flour
2 teaspoons baking powder
1/2 teaspoon salt
1 cup buttermilk (see note)
1 tablespoon canola oil
1 large egg lightly beaten
Cinnamon Filling
3/4 cup brown sugar packed
1/2 cup butter melted
1 tablespoon ground cinnamon
Cream Cheese Glaze
4 tablespoons butter
2 ounces cream cheese
3/4 cup powdered sugar plus more for garnish
1/2 teaspoon vanilla extract