Chicken Meatballs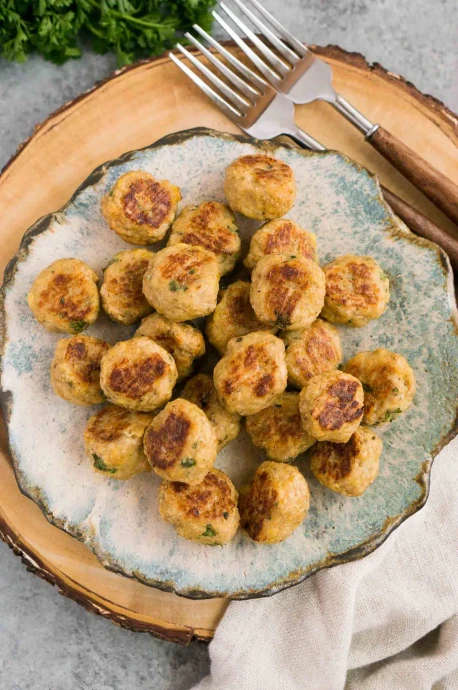 Simple and easy to make these homemade chicken meatballs are seasoned with parmesan and fresh parsley for one delicious bite. Quick to prep and ready to serve within 30 minutes. These easy chicken meatballs are super delicious, and they are so effortless to make! Perfect to serve as part of an easy weeknight dinner with your favorite sides.
Made with just a handful of simple ingredients, they are perfectly juicy and are low carb to boot.
Why you will love this chicken meatballs recipe! Healthy: High in protein and low in saturated fat, they are a great alternative to beef meatballs. Baked rather than fried for an easy addition to any well balanced meal. Make ahead: They are great for meal prep throughout the week and are also freezer friendly. Easy and quick: It takes minutes to make a batch of these meatballs and they are oven baked leaving you to get on with the rest of the meal. These healthy chicken meatballs are delicious, but you can easily make them with other ground meats. Turkey, pork, and beef all work well. I prefer to use lean ground meat for these for a healthier option. These ground chicken meatballs are great to serve on pasta, tossed in your favorite sauce, or, serve them as is with your favorite salad, veggie, or potato side dishes. Try them with: Sweet Potato Wedges, Garlic Roasted, Potatoes, Caesar Salad, Roasted Root Vegetables.
Ingredients:
1 lb ground chicken
1 egg
½ cup breadcrumbs, regular or gluten-free
2 Tbsp milk, cow's milk or almond milk
1/2 cup shredded parmesan cheese
1 Tbsp olive oil
2 garlic cloves, pressed
2 Tbsp chopped parsley
1 tsp salt & ½ tsp black pepper
1 tsp Italian seasoning
Chopped fresh parsley, for garnish