Ensalada de Pollo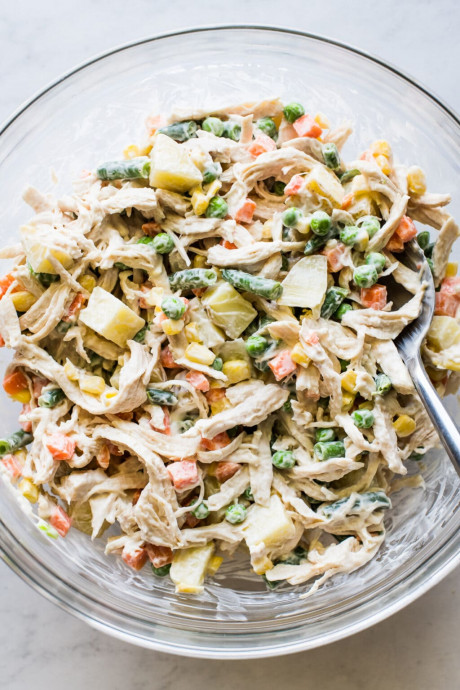 Ensalada de Pollo (or Mexican Chicken Salad) is an easy-to-make meal that's always a crowd pleaser! Filling and satisfying, this chicken salad is loaded with veggies and chicken and is mixed with a creamy dressing. Clean out your fridge and use up your leftovers with this creamy recipe for Ensalada de Pollo (or Mexican chicken salad). It uses flexible ingredients your whole family can enjoy or make it a day ahead of time and bring it to your next get-together.
Feel free to head to the store or use what you already have in your fridge. Mexican chicken salad is easy to make, inexpensive, and has a zing in every bite. Serve it on its own, on a tostada shell, in a sandwich, or with saltine crackers! Ensalada de Pollo is an easy and creamy Mexican chicken salad dish made with simple ingredients like carrots, green beans, peas, corn, potatoes, shredded chicken, and mayonnaise.
What makes this version unique is the addition of tangy lime juice and mild or hot pickled jalapeno brine! This is a great meal to make well ahead of time and keep it in the fridge until you're ready to dig in. Make your salad and keep it covered in the fridge for up to 2 days. The flavors will get to know each other and taste even better!
Ingredients:
2 small-medium gold potatoes, diced
1 16-ounce bag frozen mixed vegetables*
4 cups cooked shredded chicken (about 1 lb cooked)
3/4 cup mayonnaise
1/4 cup sour cream
juice of 1 lime (about 2 tablespoons)
1 tablespoon brine from pickled jalapenos, mild or hot (optional)
3/4 teaspoon coarse kosher salt, plus more to taste