Air Fryer Cinnamon Apple Chips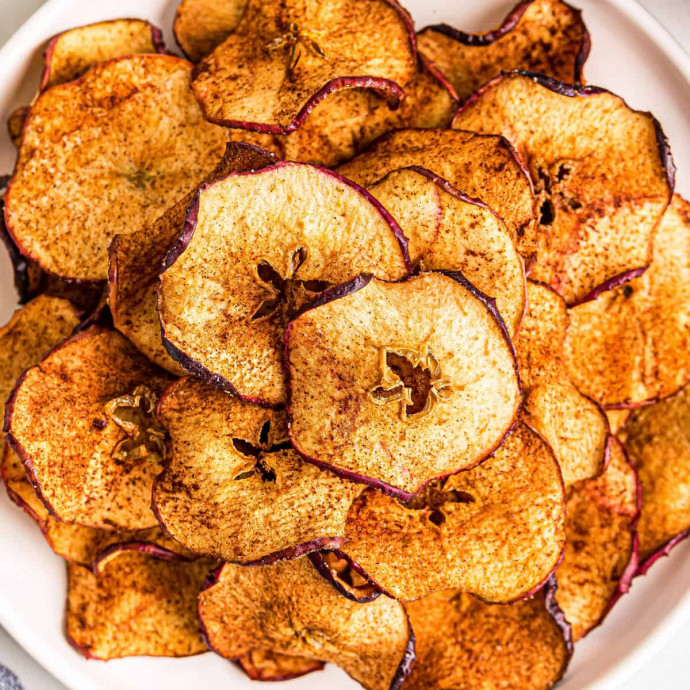 These Cinnamon Apple Chips are a healthy and delicious snack, made easily in the air fryer! They're a great way to use Fall apples, and this recipe is a family favorite! This is one of my Air Fryer recipes I know you'll want to keep on hand! We're headed into my favorite season… Fall! While I do love pumpkin, apple recipes are some of my favorites.
Apple chips are a great way to enjoy apples year round, but they're also perfect for any apples you pick up this Fall! I don't know about where you live, but here in the Midwest, there are farms that have an apple picking season, where you can go and fill up a bag of apples you pick yourself! It's so much fun, and a great family activity. But no matter where you get your apples from, they'll make fabulous chips! Sweet and crunchy, with the warmth from the cinnamon sugar… I mean they're one of my all time favorite "chips"! Most grocery stores sell bags of pre-made apple chips, and they're not bad at all. But homemade is where it's at, let me tell you. You get to control the amount of sugar, quality of apples, level of spices, etc. So let's make some, shall we?
Ingredients:
1 large red delicious apple
1 Tbsp granulated sugar
1/2 tsp ground cinnamon
cooking spray