Cinnamon Apple Shortcakes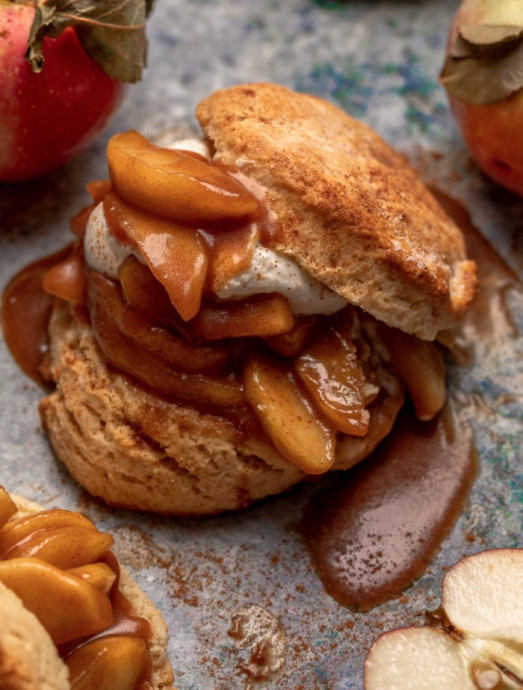 Featuring buttery biscuits topped with sugar and cinnamon and gooey apple pie filling, these cinnamon apple shortcakes are a Fall favorite! A great way to use up an abundance of apples. Top with freshly whipped cream or ice cream!
It's our first apple recipe of the season! And I'm so excited to share these apple shortcakes with you! They're obviously a spin on the classic Summer treat: strawberry shortcake! But I figured… why let strawberries have all the fun? Why not take this delicious shortcake idea and give it a cozy Fall spin?
And that my friends, is exactly what I did! Enter these cinnamon apple shortcakes! The flaky biscuits are golden brown and flavored with warm spices and just enough sugar. And the apple filling is reminiscent of what you'd find inside a homemade apple pie! But the best part? This quick treat comes together in less than an hour… and will be consumed in minutes!
Ingredients:
2 and 1/2 cups (300 grams) all-purpose flour
1/4 cup (49 grams) granulated sugar
1 Tablespoon (15 grams) light brown sugar
1 and 1/2 Tablespoons (18 grams) baking powder
1/4 teaspoon (1.5 grams) salt
1/2 cup (113 grams) unsalted butter very cold, cut into 1/2" cubes
2/3 cup (170 grams) heavy cream cold
1 large egg cold
1 teaspoon water
3 Tablespoons granulated sugar
1 teaspoon ground cinnamon
6 medium apples peeled, cored, and cut into 1/4" slices
1 Tablespoon (15 grams) lemon juice freshly squeezed
3 Tablespoons (43 grams) unsalted butter
1/4 teaspoon (1.5 grams) salt
1/4 cup (53 grams) light brown sugar packed
1/4 cup (49 grams) granulated sugar
2 teaspoons (3 grams) ground cinnamon
1 Tablespoon (15 grams) all-purpose flour
2 teaspoons (6 grams) vanilla extract
1 cup (227 grams) heavy cream cold
2 Tablespoons (14 grams) confectioners' sugar sifted