Bacon And Eggs Monkey Bread Muffins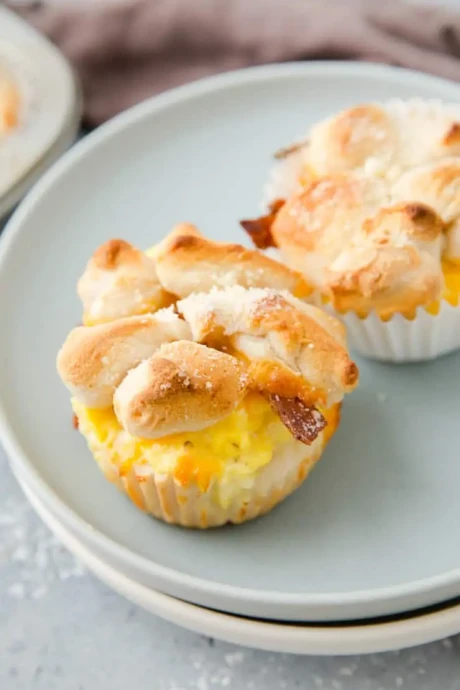 Need a quick breakfast idea? Look no further than the cans of biscuits at the grocery store! These bacon and eggs monkey bread muffins are so easy and so good! You can even serve them up for lunch or for dinner! They are filling and delicious! One of my favorite ways to get the kiddos going in the morning is by serving up some eggs! Eggs are always a healthy option as they are high-protein, low-fat and low-calorie, and will fit easily my meal planning. Plus, studies have also been shown to help kids focus and perform better in school. These muffins don't require much in the way of ingredients (they are affordable too, eggs are a great source of protein for only about $.12 a serving). This recipe doesn't take up too much of your time and they can be adapted to suit your family's tastes.
My favorite way to prepare eggs? By making these Bacon and Egg Monkey Bread Muffins! They are easy to make, freeze well, and are filling and delicious! Add chopped spinach, green onions, or even finely chopped broccoli or mushrooms for a vegetarian version!
Ingredients
6 large eggs
1/2 cup milk
1/2 teaspoon salt
1/2 teaspoon pepper
2 7.5 oz can biscuits
1 teaspoon garlic powder
1 teaspoon onion powder
2 tablespoons melted butter
3/4 cup shredded cheddar cheese
5 slices cooked bacon, crumbled