Brownie Cookies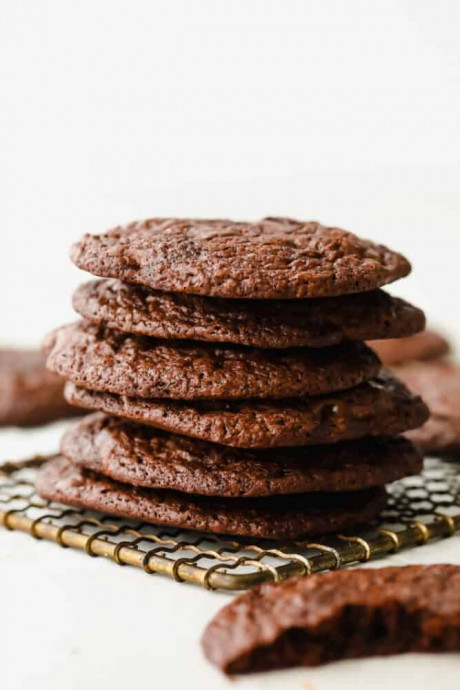 Brownie cookies are the chewy, fudgy treat that you are not going to be able to get enough of. A combination of two of my favorite desserts, you won't believe how ooey gooey and perfect these are!
Calling all chocolate lovers! It is time to get your fix. I know you will love these cookies as well as some of my other tried and true chocolate desserts: brownies, lasagna, and pie. Not sure whether you want a rich, fudgy brownie or a warm, baked cookie? Well, have I got the dessert for you. This Brownie Cookie recipe is a chocolate lover's dream. You don't have to make a trip to the store for a box of brownies anymore, with just a few staples already in your pantry, you can put a fresh batch of these bad boys together. Whether it's for a party dessert or those late-night cravings, this is the perfect indulgent treat to satisfy your sweet tooth.
My family has loved having these around. If they last long enough, which they usually don't, they are my favorite Netflix binge treat- warmed up with a scoop of ice cream. The moist, fudgy center of these cookies with a slightly crispy, perfectly baked outer layer is so irresistible. All you have to do is pull out a few basic ingredients from your pantry, mix everything together, and bake!
Ingredients:
1/2 cup unsalted butter melted
1 Tablespoon vegetable oil
1 cup granulated sugar
2 large eggs
1 teaspoon vanilla extract
¾ cup all purpose flour
1/2 teaspoon salt
1/2 teaspoon baking powder
⅓ cup Cocoa Powder
2 Tablespoon Dark cocoa powder (I used Hershey's special dark cocoa powder)
4 ounces chocolate chips or chunks
Flakey salt optional