Classic Shrimp Scampi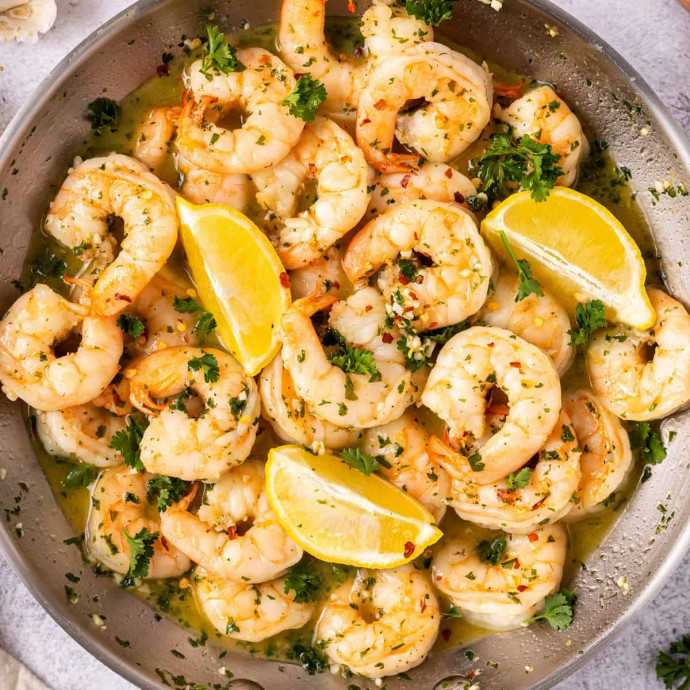 Shrimp Scampi is made with big, juicy shrimp that are cooked in a garlic butter wine sauce! Made in 20 minutes, including prep, it's perfect for a weeknight dinner. Serve with crusty bread, or over some al dente pasta! Shrimp Scampi is one of my husband's favorite meals. And even though I'm not the biggest seafood fan, it's one of my favorite meals to cook. Why, you ask? Because it's ready in 20 minutes, from start to finish, and made entirely in one pan!
That's a huge win in my book. Less work for me, but the flavors are out of this world good!
You'd never know this meal was so easy to put together, because it tastes like you got it from a fancy restaurant. This recipe for shrimp scampi has been on the website for years, but I thought it could use some better photos and updated information for you!
Ingredients:
4 Tbsp unsalted butter divided
1 1/2 lbs raw jumbo shrimp, peeled and deveined (16 or 20 per pound)
1/2 tsp kosher salt
heaping 1/4 tsp black pepper
1/4 cup finely chopped fresh parsley
4-5 cloves garlic minced
1 Tbsp lemon zest
1/4 cup dry white wine (like a Chardonnay)
1/4 cup chicken broth or stock (if you have shrimp or seafood stock that would be awesome too)
1 tsp lemon juice fresh is best
pinch of crushed red pepper flakes
more minced parsley, for garnish
lemon wedges, for serving (optional)