Baked Lemon Chicken and Potatoes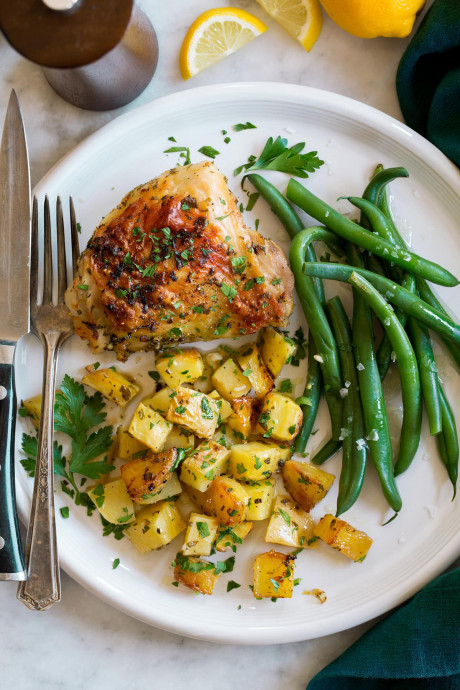 There's something about this time of year, when autumn hits the air, that makes a cozy sheet pan dinner seem just right. It's just hearty, homestyle meat and potatoes goodness.
Not only is this one pan chicken and potatoes recipe undeniably easy, it's also a dinner that's brimming with well balanced, bright and rich flavor.
It's an all in one, no fuss recipe. You just toss the potatoes with a half of a homemade simple lemon dressing, then the toss the chicken with remainder. Spread everything over a baking sheet and roast until it's all cooked through.
You'll love the fresh Greek style flavors found here, and of course that easy clean up too!
If you'd like, you can pair with a steamed vegetable to finish it off (as I've done here). I highly recommend something green for a nice pop of color such as green beans, broccoli or asparagus. Those also happen to pair really well with the lemony drippings from the baking sheet.
Ingredients:
6 large (7 oz each) bone-in skin-on chicken thighs
1/4 cup olive oil
1 Tbsp lemon zest
1/4 cup lemon juice
2 Tbsp minced garlic
1 Tbsp chopped fresh thyme
1 Tbsp chopped fresh rosemary or oregano
5 Tbsp chopped fresh parsley, divided
Salt and freshly ground black pepper
2 1/2 lbs Yukon gold potatoes, cut into 2/3-inch cubes