Vegan Banana Bread Mug Cake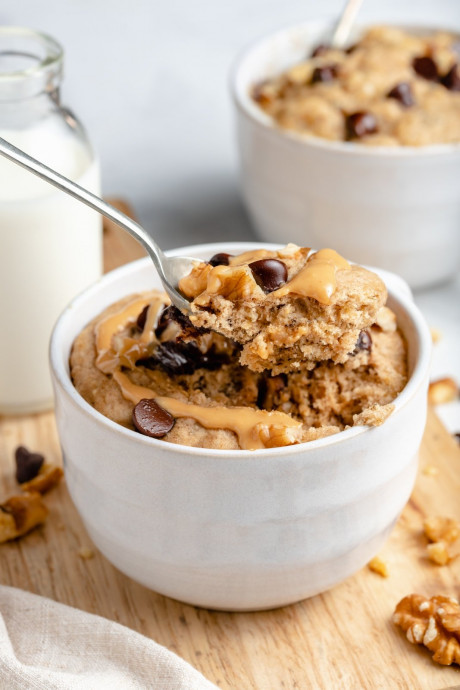 Delicious vegan banana mug cake that takes just 5 minutes to make in the microwave with super simple ingredients! You'll LOVE this easy banana bread mug cake for a fun, quick treat whenever the sweet tooth cravings hit. Tastes like a slice of banana bread and your favorite piece of cake!
This vegan banana mug cake combines banana bread recipe with a perfectly moist cake texture to give you an incredibly satisfying dessert you can eat any time. It literally takes 5 minutes from start to finish and uses just a handful of ingredients you likely already have in your kitchen. It's seriously one of my new favorite ways to use up the overripe bananas chillin' on my counter.
OH, and did I mention you make it in the microwave? That's right! No oven required, so we'll call it a no bake dessert.
If you've never made a mug cake before get ready to be mind blown. This easy banana bread mug cake can also be made gluten free, and is extra special with chocolate chips and some chopped walnuts! Make one for yourself and maybe for a loved one, too. It's the ultimate dessert for date night, girls' night, evenings with the kiddos, or just when that sweet tooth hits.
Ingredients:
1/2 extra ripe banana (about 1/4 cup mashed banana)
1 tablespoon coconut oil, melted and cooled
1 tablespoon packed brown sugar (or coconut sugar)
1/2 teaspoon vanilla extract
1/4 cup all purpose flour (or sub 1:1 gluten free all purpose flour)
1/4 tsp. baking soda
1/8 teaspoon ground cinnamon
1/8 teaspoon salt
Optional:
1 tablespoon mini or regular chocolate chips, plus more for topping
1 tablespoon chopped walnuts, plus more for topping