Quick and Easy Thai Green Curry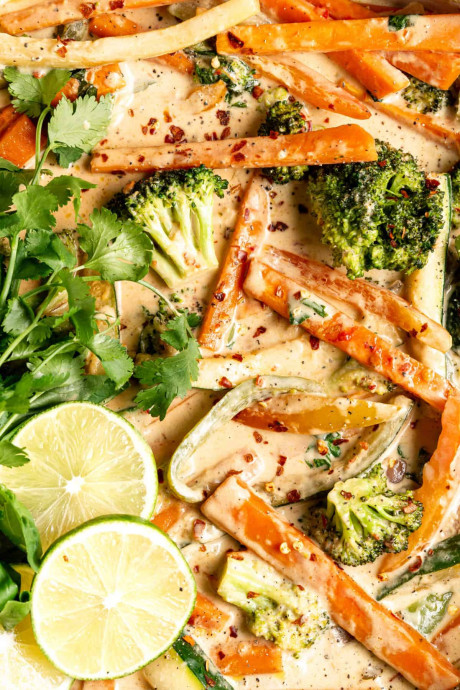 Vegan Thai Green Curry takes only 15 minutes to prep! This homemade vegan curry is loaded with rich flavors and healthy vegetables, and it's bound to be a crowd-pleaser!
Thai Green Curry is aptly named because it's, well, green. The curry sauce turns a bright, vibrant shade of green because of the paste and the Thai basil.
Anyway, I love making this green curry because it's the whole package flavor-wise. It's spicy, savory, and even a little bit sweet. And, texture-wise, the curry comes out so creamy in the end! Yum.
I like to serve this vegan Thai green curry with some basmati rice or naan bread, or both. Any kind of steamed rice (like Jasmine) will work, basmati is just a personal favorite.
You can also eat this curry by itself if you like, though – it's pretty darn filling!
To say I was in heaven while eating this is SUCH an understatement. Every bite ties into the next beautifully, and I promise you'll be making this again.
Ingredients:
2 tablespoons coconut oil
2 tablespoons green curry paste
1 red onion chopped
4 cloves garlic minced
1 head broccoli chopped
½ medium red bell pepper cut into strips/spears
½ medium green bell pepper cut into strips/spears
3 carrots cut into strips/spears
1 zucchini cut into spears
¾ teaspoon sea salt to taste
½ teaspoon ground black pepper to taste
1 tablespoon coconut sugar or raw sugar
1 tablespoon liquid aminos or tamari or low sodium soy sauce
1 can coconut milk (full fat or lite) 13.5 ounces (383g)
half a lime
1 bunch thai basil washed and chopped (about 2-3 tablespoons)
½ tablespoon sambal oelek or Sriracha optional, for heat
optional 2 teaspoons coconut flour for slight thickening