Sweet & Spicy Sesame Chicken Meatball Bowls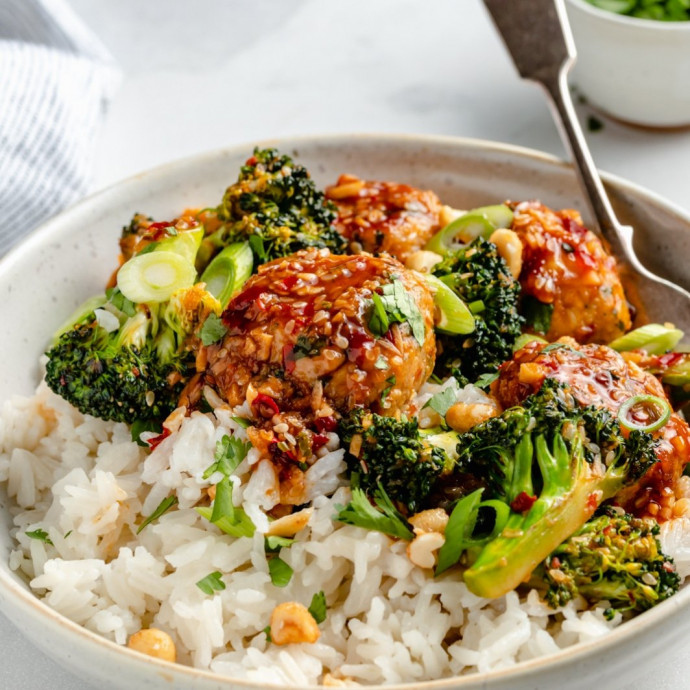 Delicious one pan sesame chicken meatballs with crispy broccoli and a sweet and spicy ginger sesame sauce. These flavorful, protein-packed sesame chicken meatball bowls make the best weeknight dinner served with coconut rice, brown rice or quinoa! Customize these bowls with your fav sides & garnishes.
These sesame chicken meatballs are super juicy and absolutely delicious paired with crispy broccoli. Everything is simmered in a wonderful sweet and spicy sesame ginger sauce that's lick-the-plate good. There are hints of fresh ginger and herbs, plus some red chili paste in every bite for a little spice. Add your fav sides like my fluffy coconut rice for the perfect sesame chicken meatball bowls that make the best meal prep!
This recipe combines all of the best parts of a stir fry with flavors from this yummy noodle dish and throws it in an irresistible bowl of flavor that you'll come back to time and time again. I've included tons of different ways to serve these meatballs so that no two times will be the same! What are you waiting for?! Cook everything up in one pan and enjoy the perfect weeknight dinner.
Ingredients
Sweet and Spicy Ginger Sesame Sauce:
¼ cup soy sauce
1/2 cup water
1 tablespoon sesame oil
1 tablespoon sesame seeds
1 tablespoon red chili paste (such as sambal oelek)
1 tablespoon fresh grated ginger
3 cloves garlic, minced
2 tablespoons brown sugar (or coconut sugar)
1 teaspoon arrowroot starch (or sub cornstarch)
For the meatballs:
1 tablespoon toasted sesame oil
1 pound lean ground chicken (or sub ground turkey)
1 egg
½ cup panko or gluten free breadcrumbs
2 green onions, finely diced (about ¼ cup green onion)
½ cup finely diced cilantro
2 cloves garlic, minced
½ tablespoon fresh grated ginger
¼ teaspoon cayenne pepper
½ teaspoon salt
Freshly ground black pepper
For the broccoli:
1 tablespoon toasted sesame oil
3-4 cups broccoli florets
For serving:
Coconut rice or brown rice
Scallions
Cilantro
Chopped roasted peanuts