Flan Pâtissier (French Custard Tart)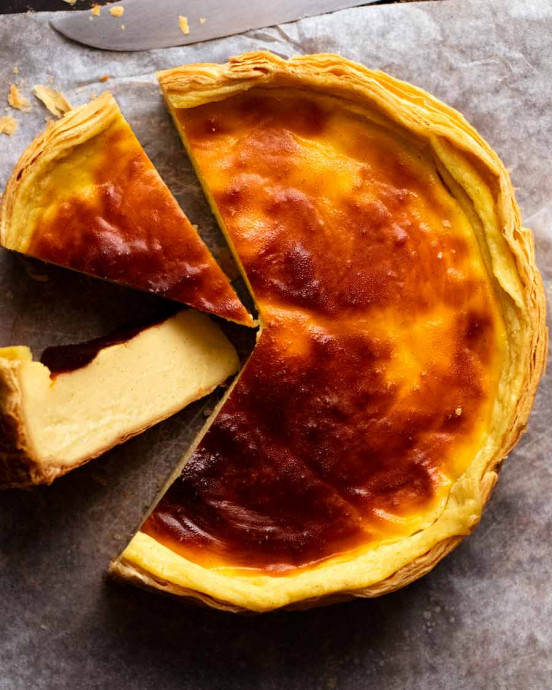 Introducing the world's greatest custard tart: Flan Pâtissier! Also known as Parisian Flan, this incredible French tart is like a gigantic Portuguese Tart. It's a flaky pastry crust filled with a wicked amount of creamy and rich vanilla custard that glows with a gorgeous bronze sheen after baking.
lan Pâtissier is a French custard tart that is made with a pastry crust filled with vanilla custard and baked.
Also known as Parisian Flan, you'll find it in every suburban bakery all across France. It blows my mind to know that this pastry is so commonplace for the French that to them it's considered no big deal as far as pastries go. To this Aussie lass, it is a big deal. It is phenomenally good. Indescribably great. My dessert discovery of the year. The custard used for Flan Pâtissier is Creme Patissiere, a rich and creamy vanilla custard used in many desserts in France. It gets its richness from egg yolks which, combined with cornflour/cornstarch, is what makes it set to a perfect consistency such that it can be sliced neatly but melts in your mouth when you eat it.
To say this thing is magnificent would be the understatement of the year. Words fail me. It's that good!
Ingredients:
CREME PATISSIERE:
1 litre / 1 quart milk , full fat
2 vanilla beans , seeds scraped, beans reserved (Note 1)
1 cup caster sugar , separated
120g / 4.2 oz egg yolks (~6 to 7 large eggs, 100 ml, Note 2)
1 large egg (55 – 60g / 2 oz)
7 tbsp (70g) cornflour/cornstarch (scoop and level, Note 3)
50g (5 tbsp) unsalted butter , cut into 1cm cubes (cold)
PASTRY:
2 sheets butter puff pastry, FROZEN (25cm / 10" squares, 185g/6oz each) (Note 4)
1 egg yolk , whisked
Butter , for greasing