Oh So Good Chicken Meatballs in Pumpkin Coconut Curry Sauce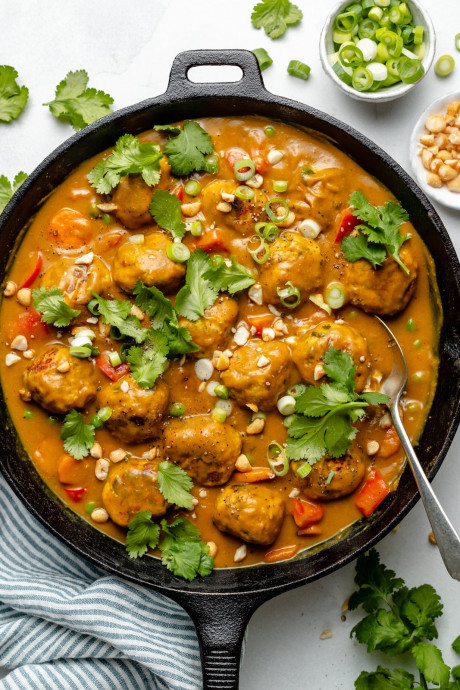 We're kicking this epic week off on a savory note and damn, this is a delicious one. I had to bring you guys another one pan meal and YES we're making some incredible meatballs with an out-of-this-world amazing sauce. These chicken meatballs in pumpkin curry sauce are filled with wonderful flavor from curry powder, fresh ginger, red chili paste, coconut milk, peanut butter, and of course, pumpkin.
They remind me of my famous ginger chicken meatballs in peanut sauce but with a super unique, flavorful fall twist that you're going to love.
If you've already been cooking or baking up a storm with pumpkin puree (homemade is the best!) this meatball recipe is the perfect way to use up the rest of the can or jar that you have. It's Monday and it's the perfect day to meal prep these babies to enjoy all week long. I've included the best sides to serve these meatballs with so be sure to scroll through and pick your favorites in the post.
Get this wonderful one pan meal on your dinner table ASAP and watch even the kiddos devour! Not only is that creamy pumpkin coconut curry sauce absolutely dreamy, but the chicken meatballs themselves are packing the flavor.
Ingredients:
For the meatballs:
1 pound lean ground chicken or turkey
1 egg
½ cup panko breadcrumbs, gluten free if desired
1 tablespoon brown sugar or coconut sugar
1/2 tablespoon red chili paste
⅓ cup finely diced cilantro
¼ cup finely diced green onion (or sub red onion)
3 cloves garlic, minced
1/2 tablespoon fresh grated ginger (or sub ½ teaspoon ground ginger)
1 teaspoon ground turmeric
½ teaspoon salt
Freshly ground black pepper
For the sauce:
1 tablespoon sesame oil
1 (15 ounce) can lite coconut milk
¾ cup pumpkin puree
2 tablespoons natural creamy peanut butter
1 tablespoon low sodium soy sauce (or coconut aminos)
1 tablespoon yellow curry powder
1 large carrot, sliced
1 red bell pepper, cut into chunks or julienned
½ cup frozen peas
To garnish:
Cilantro
Chopped peanuts
Scallions
Optional for serving:
Coconut rice
Brown rice
Or rice noodles