Crispy Baked Tilapia Recipe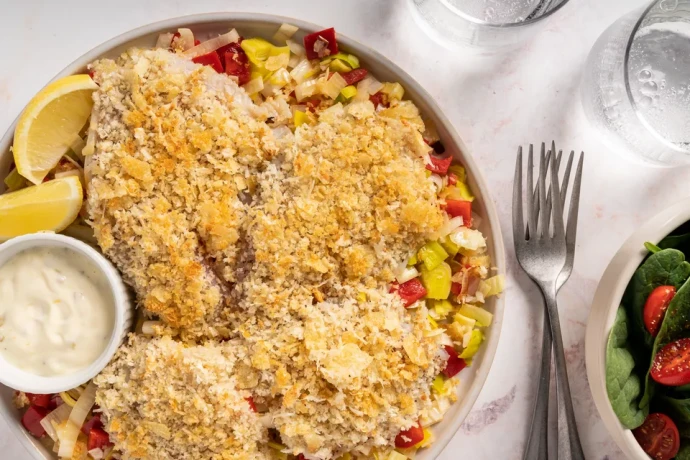 Tilapia is a mild-flavored fish that can be cooked using a wide range of methods, from pan-frying to poaching to grilling, and, of course, baking. This baked tilapia recipe has a nice crisp coating that makes the fish taste like it was fried while instead it was cooked in the oven. The breading is a mixture of Panko (Japanese bread crumbs), crushed potato chips, and grated Parmesan cheese, creating a cheesy, crunchy topping with just the right amount of salt. The fish sits on top of a bed of leeks and peppers as it bakes, keeping the fish moist, infusing flavor, and making this recipe an easy one-dish meal.
Tilapia is a good choice when looking for a sustainable fish as it is raised on farms. If you can't find tilapia or prefer another type of thinly cut white fish, catfish, rainbow trout, striped bass, red snapper, and branzino are all good alternatives.
Ingredients:
3 medium leeks, washed and chopped (white and light green parts)
1 medium red bell pepper, seeded and diced
1 clove garlic, minced
1 teaspoon olive oil
1 1/2 pounds tilapia
Kosher salt and freshly ground black pepper
1 cup Panko (Japanese breadcrumbs)
1/2 cup crushed potato chips
1/2 cup grated Parmesan cheese
2 tablespoons butter, melted