Sweet and Sour Chicken Skillet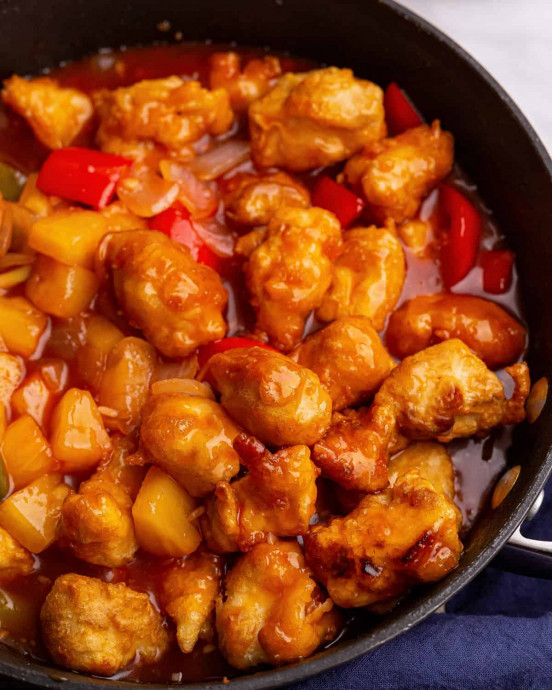 This Sweet and Sour Chicken Skillet is the perfect family dinner! Chicken is fried until crispy, added to a skillet with sautéed bell peppers, onions and pineapple, and tossed in an amazing takeout style sweet and sour sauce!What I love most about this recipe is that it can be made all in one skillet, leaving you with way less dishes to worry about after dinner. All you need is a deeper skillet, otherwise the frying process can get a bit messy.
This recipe uses that exact sauce I shared yesterday, just cooked in a slightly different way, so it cooks down with the chicken and veggies, leaving them gloriously coated with that sweet and tangy sauce.
Ingredients:
Chicken
2 average sized boneless skinless chicken breasts cut into small bite-sized pieces
1/2 tsp kosher salt
1/2 cup all purpose flour
1/4 cup cornstarch
1 tsp baking powder
1/2 tsp baking soda
3/4 cup cold water
enough vegetable oil to fill a deep skillet by about 1.5 inches
Sauce
1 cup canned pineapple juice
2/3 cup packed light brown sugar
1/3 cup rice vinegar
1/4 cup ketchup
2 Tbsp reduced sodium soy sauce
2 Tbsp cold water
1 1/2 Tbsp cornstarch
1 – 2 drops red food coloring (optional)
Skillet
1 medium yellow onion peeled and sliced into roughly 1 inch pieces
1 red bell pepper seeded and sliced into roughly 1 inch pieces
1 green bell pepper seeded and sliced into roughly 1 inch pieces
3 cloves garlic minced
8 oz can pineapple tidbits drained
sesame seeds for garnish
sliced green onions for garnish