Broccoli Cheddar Quiche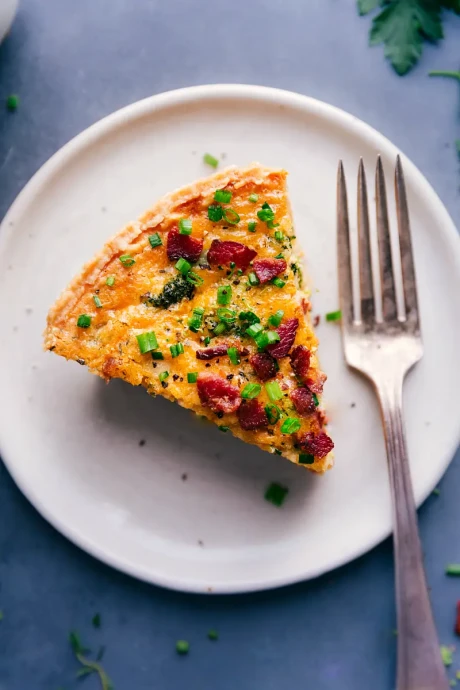 Broccoli Cheddar Quiche is loaded with tender broccoli, sharp Cheddar cheese, and creamy egg custard. It's easy to adapt to personal preference and we're keeping things simple by using a store-bought pie crust!
There's a whole lot to love about this quiche — it can be prepared ahead of time, enjoyed for any meal of the day (who says quiche is just for breakfast or brunch?!), and can be eaten warm or at room temperature.
This quiche is pure comfort food for any time of the day! My kiddos especially love it as a mid-morning or afternoon snack.
Broccoli Cheddar Quiche starts with bacon. The bacon adds great flavor and texture to the quiche, and it also is used as a garnish after the quiche is baked.
The fat rendered from the bacon is also used to enhance the flavor of the onion, garlic, and broccoli. After cooking the bacon, carefully remove it with a slotted spoon to a paper-towel-lined plate.
Ingredients:
1 (9-inch) frozen ready-to-bake pie crust (must be a deep-dish crust)
7 slices bacon hardwood smoked
1 tablespoon unsalted butter
1/2 cup (78g) finely diced yellow onion (~1 medium onion)
1 teaspoon minced garlic (~1-2 cloves)
1/4 cup (14g) freshly grated Parmesan cheese
1 cup (85g) freshly grated extra-sharp Cheddar cheese
4 large eggs
1 cup (70g) broccoli very finely chopped
1 cup (221g) heavy whipping cream
1/4 teaspoon dried thyme
3/4 teaspoon EACH: ground mustard, paprika
Fine sea salt and freshly ground black pepper
Optional garnish: chopped chives, crumbled bacon