Vegan Meatballs (Sweet & Sticky)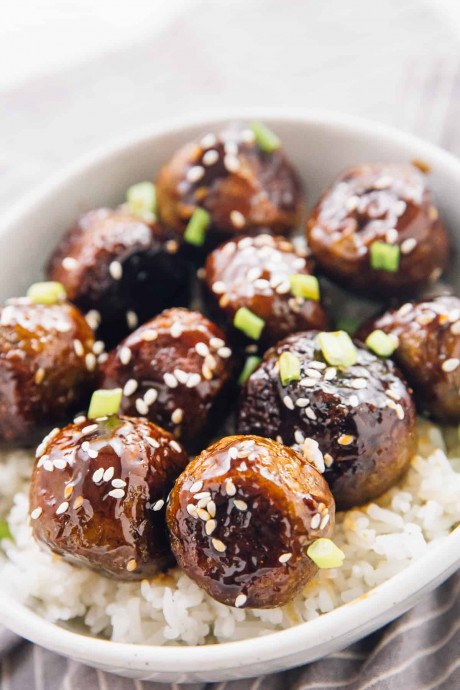 These Vegan Teriyaki Meatballs have the perfect texture and taste divine! They are incredibly easy to make, coated in a homemade sweet and sticky teriyaki sauce and so meal preppable!
These cauliflower meatballs — or veggie meatballs or or literally whatever you want to call them — are about to make your next weeknight meal EPIC.
Having Vegan Teriyaki Meatballs pre-made and sitting in your fridge. Waiting for you to add it to every meal. On top of pasta. With rice. Quinoa. Squished down into a hoagie. Squished into little sliders between bread. Slathered in an easy and thick teriyaki sauce that's clinging to it and…
I think you get the picture. Meal prep friends! What a wonder it can add to our weeks. These vegan teriyaki meatballs are:
Firm enough to stick a fork in and not fall apart
Still moist enough on the inside
Covered in a thick and syrupy homemade teriyaki sauce
The perfect texture
Freezer friendly — just freeze without the sauce!
Meal prep friendly — make like 40 and add it to everything in life.
Ingredients:
8 ounces roasted cauliflower (instructions below) (1 cup)
1 cup cooked quinoa (137g)
2 Bob's Red Mill Egg Replacers OR flax eggs if flax eggs, less one tablespoon of liquid per flax egg
½ cup red onion, finely diced (114g)
1/2 teaspoon ground black pepper
¾ teaspoon sea salt
3 cloves garlic minced
1 cup breadcrumbs gluten free if needed
1 ½ tablespoons coconut oil
Teriyaki Sauce Ingredients
1/4 cup light soy sauce or liquid aminos
¼ cup raw unrefined brown sugar or coconut sugar
1 teaspoon cornstarch + 1 teaspoon water stirred together
½ teaspoon ground ginger
2 teaspoons sesame seeds
1 tablespoon rice wine vinegar
¼ cup water
chopped scallion to garnish