Elevated Macaroni and Cheese with Bacon and Gruyère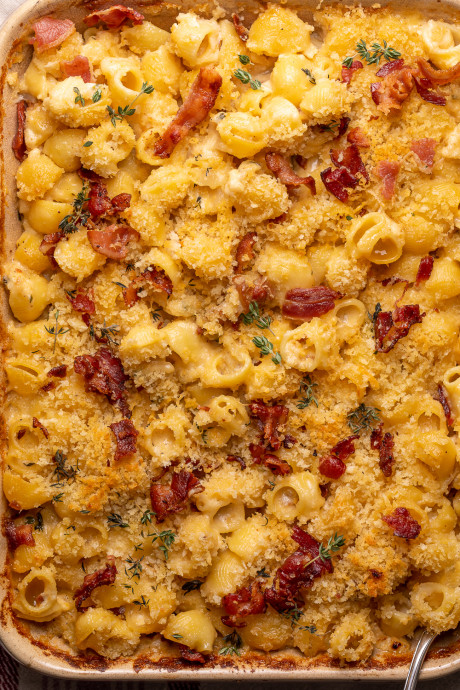 Elevated macaroni and cheese with bacon and gruyère is the perfect side-dish! It's great for special occasions like Thanksgiving and Christmas, or any night you're craving comfort food! The gruyère cheese gives this dish a "grown-up" sophistication, the bacon adds a crunchy element, and the shellbows are the perfect noodle to catch all of the deliciousness going on in this recipe!
We all have our own ideas of what makes a mac and cheese recipe perfect, don't we?
Some folks love the quick and creamy stovetop version, while others prefer a thicker, heartier baked variety. There are the mac and cheese purists; and the mac and cheese extremists who try to shove a million different ingredients into their dish! And then of course, there are the folks who prefer their macaroni and cheese… straight out of the box! For this bacon mac and cheese, you'll need sharp white cheddar cheese and gruyere cheese. Plus, milk, melted butter, and heavy cream. This combination is oh-so-delicious! And adds an elevated taste your guests are SURE to notice!
The sauce also gets dolled up with flavor boosters like shallots, fresh thyme, nutmeg, and cayenne pepper. You'll also use salt and pepper to season, but be sure to taste first, then add as needed. Cheese is salty! So you don't want to add too much! And remember, you're adding bacon, too!
Ingredients:
1 pound Shellbows Pasta
1 pound bacon
4 and 1/2 Tablespoons unsalted butter
3 shallots diced
2 and 1/2 teaspoons fresh thyme chopped
1/4 cup (30 grams) all-purpose flour
3 and 3/4 cups whole milk
1 teaspoon light brown sugar
1 teaspoon salt
1/2 teaspoon black pepper
1/4 teaspoon cayenne pepper
1/4 teaspoon ground nutmeg
1/3 cup heavy cream
8 ounces white extra sharp cheddar cheese grated
6 ounces gruyère cheese grated
4 ounces sharp cheddar (use an orange variety if you want a slightly orange hue like mine) grated
1/2 cup panko bread crumbs
1 Tablespoon olive oil