Dark Chocolate Cranberry Blondies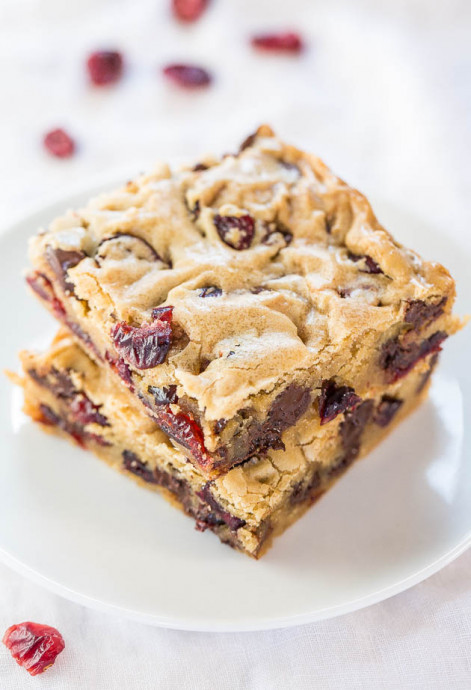 I love cranberries and 'tis the season for them. And it's always the season for chocolate recipes.
I have a copycat recipe for Starbucks Cranberry Bliss Bars that is spot-on and I love those things but they do take a little bit of time to make. These blondies are the faster, easier, semi-sweet chocolate alternative and just baking them reminded me of all the cranberry goodies my grandma and I used to make together around the holidays when I was growing up.
The soft, buttery, caramely, brown sugary, blondie base is the perfect complement to the chewy, tart cranberries. Dark chocolate is a perfect pairing and really balances the flavors.
When I want an easy, fuss-free recipe that I know will be a hit, I call upon my trusty blondie base. With 30+ versions and counting (including the Cranberry Bliss Bars), it never lets me down. For a last-minute, fast, easy, and foolproof holiday entertaining recipe, whip up a batch of these.
Ingredients:
1/2 cup unsalted butter (1 stick), melted
1 large egg
1 cup light brown sugar, packed
1 tablespoon McCormick Pure Vanilla Extract
1/2 teaspoon McCormick Ground Cinnamon
1 cup all-purpose flour
3/4 cup dried cranberries (I used orange-scented cranberries from Trader Joe's)
3/4 cup semi-sweet chocolate chips