Cheesy Garlic Pesto Chicken Sliders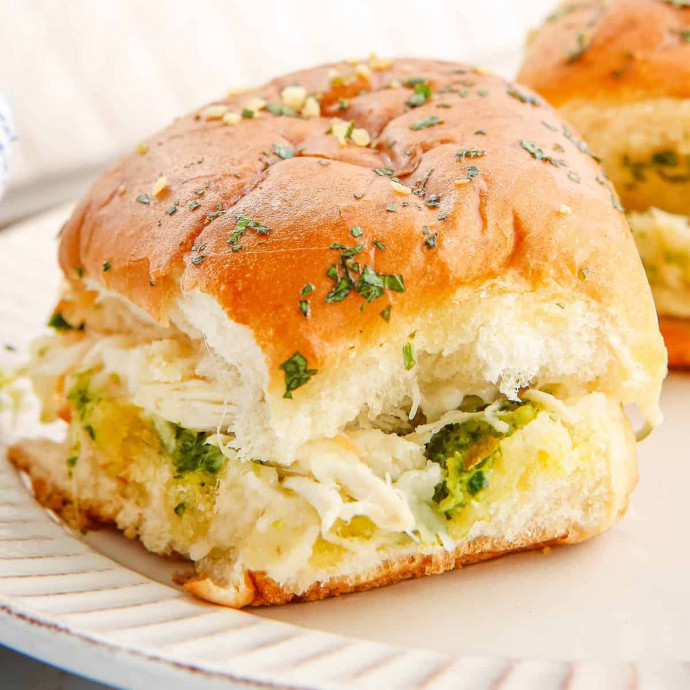 These Cheesy Garlic Pesto Chicken Sliders are gooey, hot, and so easy to make. Made with just 7 simple ingredients, with make ahead and freezer directions, they're the ultimate delicious party food! We're coming up on prime party food season, which is one of my favorites! Between game day parties and holiday gatherings, you'll want to have some easy appetizer recipes in your back pocket. This slider recipe is definitely an easy recipe! Just 7 common ingredients (plus salt and pepper to taste), and they're loaded with flavor. The main protein in this recipe is shredded chicken, so it's perfect for leftovers or a rotisserie chicken. You can also make these sliders ahead of time, and even freeze them! So whether you're hosting the party, or just attending, you can serve/bring the party food everyone will be talking about.
If you have to substitute the baking pan, just make sure you use one that has sides. This is pretty buttery and you don't want melted butter all over your oven!
Variations of this recipe
Pesto – I love using my homemade pesto recipe for these sliders, but a quality store-bought variety will also work just fine. Buitoni, Dellalo, Rao's, or Classico are a few of my favorite brands.
Rolls – any slider buns/rolls will work for this recipe. Hawaiian, potato, or butter slider rolls are my favorites.
Chicken – I like to use any leftover chicken I have on hand (provided it isn't covered in bbq sauce or something), but rotisserie chicken is a great alternative. I like to pick up one from the store when they're on sale, remove the meat, shred it, and freeze it. That way I always have some rotisserie shredded chicken on hand.
Cream sauce – to make these sliders even more gooey and delicious, spread some roasted garlic cream sauce, or store-bought Alfredo sauce over the bottom bun layer.
Topping – try adding some everything bagel seasoning, a little more pesto, or some finely minced shallots to the garlic butter topping.
Ingredients:
2 count package slider rolls
6 Tbsp unsalted butter melted
4 cloves garlic finely minced
2 tsp minced fresh parsley
2/3 cup basil pesto homemade or store-bought (divided)
2 cups cooked and shredded chicken a rotisserie chicken is great for this
1 1/2 cups shredded mozzarella cheese
salt and pepper to taste