One Pot Veggie Pasta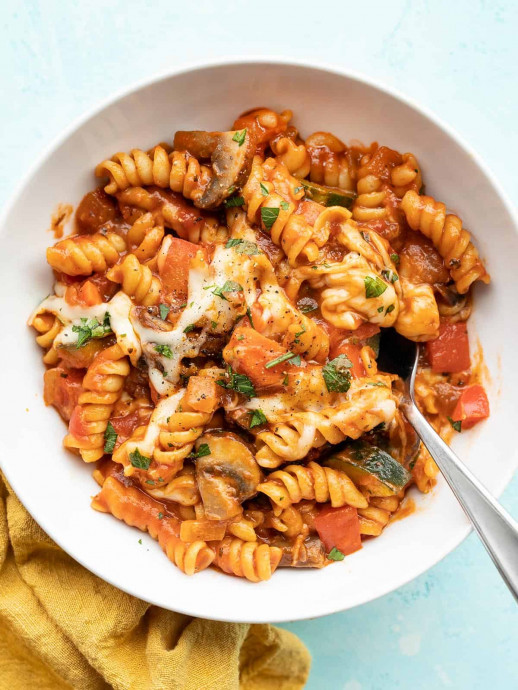 Here's a quick little one pot pasta I've been making lately with my leftover veggies. You can literally add in whatever you have on hand and it creates a tasty one pot meal with tons of color, flavor, and texture. It may not be revolutionary, but I think sometimes it helps to see what quick meals other people are making and this One Pot Veggie Pasta is my latest go-to quick fix.
As far as one pot pasta goes, this recipe isn't that revolutionary, but I love it for one main reason—it's perfect for using up leftovers. Got two carrots left? Or maybe a half of a bell pepper. A handful of mushrooms? How about that partial bag of broccoli florets hiding the back of your freezer? They can all go in this super quick one pot pasta! The more colors and textures the merrier.
Convenience is the name of the game with this quick weeknight pasta dish, so I used a jar of pasta sauce instead of making my own this time around. You can literally use any red pasta sauce, as long as it's one you know you like. …Actually, I bet you could also turn this into a really tasty alfredo! As with any leftover pasta dish, the rotini does get a little softer as it is stored in the refrigerator. Personally, that has never bothered me or stopped me from eating leftover pasta, but if you're sensitive to textures, you might not enjoy the leftovers of this pasta.
Ingredients:
2 cloves garlic
1 yellow onion
2 carrots
2 Tbsp olive oil
8 oz. mushrooms
1 zucchini
1 red bell pepper
1/2 lb. rotini (not cooked)
1/2 tsp dried basil
1/2 tsp dried oregano
2 cups vegetable broth
24 oz. pasta sauce
4 oz. mozzarella, shredded (optional)