Cheesy Buffalo Roasted Potatoes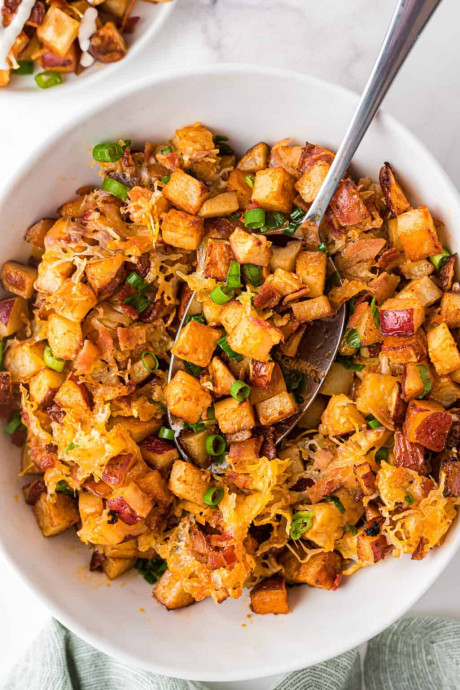 These crispy Cheesy Buffalo Roasted Potatoes are the side dish you never knew you needed in your life! Spiced potatoes, tangy hot sauce, gooey cheese, crispy bacon, fresh green onions… and top it all off with a drizzle of ranch or blue cheese dressing!
Are you a buffalo flavor fan? Hot sauce lovers unite! The tangy spiciness is kind of irresistible right? Buffalo chicken gets a lot of the hype, and I can't deny, this buffalo chicken dip is always the first one gone at a party. But other things can easily be "buffalo-ized". Yeah, not sure that's a word, but it should be!
These potatoes are a glorious combination of roasted potatoes, loaded baked potato flavor, and buffalo flavor. In my opinion, they're the ultimate roasted potatoes! The taters are coated in plenty of seasonings, hot sauce, and oil (so they don't stick), then roasted until nice and crispy. Then we take it further by smothering them with cheese and bacon, and topping them with green onions and a drizzle of ranch or blue cheese to cool them down a little.
I may or may not have made a meal out of these potatoes a time or two. No shame! But if you'd prefer to make a proper meal, feel free to add some chicken to the baking sheet.
Ingredients
2 lbs (about 7 medium to large potatoes) red skin potatoes scrubbed clean and cut into 1/2" cubes
1/4 cup olive oil vegetable, peanut, avocado, canola, etc can be substituted
2 tsp garlic powder
1 tsp kosher salt
1/2 – 1 tsp black pepper
1 tsp paprika
1/2 tsp onion powder
1/3 cup hot sauce your favorite brand – we like Cholula
1 1/2 cups shredded Mexican-blend cheese cheddar can be substituted
5 – 7 slices cooked and crumbled bacon
1/2 cup sliced green onions
ranch or blue cheese dressing for drizzling, if desired