Gazpacho Salad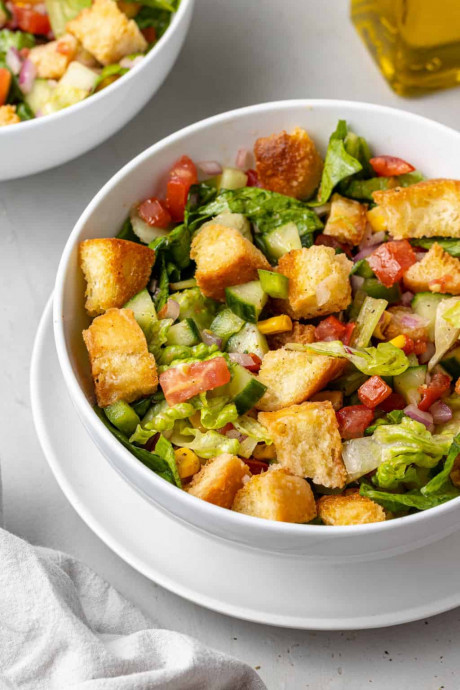 Everything you love about gazpacho is reimagined in this refreshing gazpacho salad. Easy to make and so satisfyingly crispy and delicious!
Discover all the elements of gazpacho, a puréed soup served chilled, in a summery chopped salad: vine ripened tomatoes, red onion, crisp bell pepper, fresh cucumber, garlic, hearty croutons, extra virgin olive oil and red wine vinegar. Refreshing as the traditional soup, gazpacho chopped salad is rustic and simple.
This is a chopped salad, so it's pretty easy to make. Simply chop everything up in bite sized pieces, add croutons and an easy homemade vinaigrette, and toss it together.
Ingredients:
Vinaigrette
3 tablespoons red wine vinegar
1/4 cup extra virgin olive oil
1 teaspoon minced fresh garlic
1/2 teaspoon kosher salt
¼ teaspoon coarse ground black pepper
Salad
¾ cup diced red onion
2 cups chopped tomatoes, seeds removed
1 cup diced English cucumber
½ cup diced green bell pepper
½ cup frozen corn kernels, thawed
4 cups croutons
1 medium head romaine lettuce, torn into bite-sized pieces (6 cups)